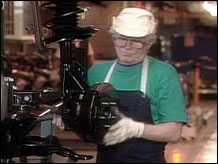 Delphi, the largest U.S. auto supplier, has filed for bankruptcy. WDIV's Rod Meloni reports (October 10)
Play video

NEW YORK (CNN/Money) - General Motors stock tumbled Monday along with Delphi Corp. stock and bonds on news that the auto parts maker had filed for bankruptcy over the weekend.
Delphi, the nation's biggest auto parts maker, filed for protection under Chapter 11 of the federal bankruptcy laws Saturday after warning for months that a filing was likely. In Chapter 11, a company is protected from creditors while it works out a plan to reorganize and pay its debts.
GM (down $0.67 to $26.03, Research) shares sank about 5 percent in early trading on the New York Stock Exchange.
GM, which spun off Delphi in 1999, may be on the hook for pensions and benefits of Delphi employees that could total as much as $11 billion, the automaker said in a statement over the weekend.
Meanwhile, Delphi (Research) shares tumbled as well, losing about half their value in morning trading after a delayed opening.
Delphi bonds also tumbled in Monday over-the-counter trading, Reuters reported.
Bondholders often get just a fraction of their original investment when a company reorganizes in bankruptcy while shareholders are usually wiped out.
Delphi's bankruptcy filing was the biggest in U.S. automotive history and promises to have a broad impact across the industry.
For example, the chances that GM will have to file for bankruptcy are now up to about 30 percent, according to one industry analyst, following the Delphi bankruptcy filing. (Full story).
The analyst, Ron Tadross at Banc of America Securities, estimated that GM's retirement liabilities are now up to about $6 a share, as the automaker warned it could be on the hook for up to $11 billion in contract obligations to its former employees at Delphi. (Full story).
Delphi, based in Troy, Mich., has struggled since it was spun off from former parent General Motors in 1999, posting net losses of $741 million in the first half of 2005 alone. (Full story).
___________________
Another auto parts supplier, Dana, also took a hit from an accounting scandal. Click here for more.
Click here to get up to speed on the rest of the day's headlines.