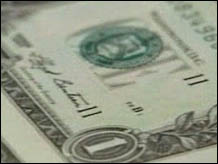 CNN's Gerri Willis offers some advice for changing your spending habits. (October 12)
Play video

NEW YORK (CNN/Money) - All the recent talk about the changing bankruptcy law may have you taking a second look at your finances.
If you're getting a bit concerned about mounting debt, stick around. In today's top five tips we're going to tell you how you can change your spending habits.
1. Calculate your debt
Most people get into financial trouble because of unconscious spending, according to Steve Rhode of consumer credit counseling service Myvesta.org.
There are a few warning signs to tell if you're headed for financial trouble. If you find that you're only able to pay the minimums on your bills every month or if you don't know what you owe or how to get out of the debt that you do have, you may be in denial about your debt load, says Todd Mark of the National Foundation for Credit Counseling.
You'll need to track your expenses for about 30 days. To figure out what your financial health looks like to a lender, calculate your debt-to-income ratio. Add up how much you owe each month and compare it to how much you make each month. Don't forget to include the money you get from rentals or any other additional income. Divide your total monthly debt by your total monthly income.
This is your total debt-to-income ratio. The lower the number, the better financial health you're in. Any score higher than 0.34 to 0.36 may cause an increase in the interest rate you get on a loan, according to financial advisor Doug Flynn. And don't forget to get your free credit report at www.annualcreditreport.com or call 1-877-322-8228
2. Put monthly bills on autopilot
You may want to think about having some of your bills automatically deducted from your accounts. This way you'll have no choice but to adjust your monthly spending habits.
Put your mortgage and your car payments on an automatic cycle, says Mark. And you'll also want to tally up what you can put toward your credit card bills. Make sure you pay more than the minimum payment for your credit cards. If you find that you have more money coming in on a particular month, put the extra toward paying down that bill.
To avoid depleting your funds, you really need to keep on top of how much money you have in your account. And be especially cautious about bills that can fluctuate greatly, like your natural gas bill. If you have an overdrawn account, you could be socked with overdraft penalties which can run from $30 to $40 for a bounced check.
3. Keep your health care coverage
One of the biggest reasons people file for bankruptcy is for medical expenses. And those expenses are on the rise. Since 2000, annual healthcare premiums for family coverage have risen 72 percent, according to the Kaiser Family Foundation.
So while health insurance may not be cheap, it's necessary. You should always have medical insurance. Medical bills from even a minor car accident can wipe out your savings. If you can get medical insurance from your employer, grab it. Group coverage is almost always a better deal than what you can get by yourself.
If you are no longer employed, you can still get group health insurance with COBRA. This lets you continue the health insurance plan you had under your employer for 18 to 36 months after you leave the job. But you're going to be paying a premium. Under an employee-based program, you generally pay about $600 annually for your health care. If you insure your family, your costs are about $2,700. Under COBRA you could be paying up to $4,000 for you or up to $11,000 for your family. With COBRA, you can't be penalized if you have a pre-existing health condition.
If you want to go it alone and find cheaper health care through an individual plan, you should be careful. Going to the independent market can be cheaper, because plans can be more tailored to your age and gender, rather than generalized for a large group of employees. But according to Gary Claxton of the Kaiser Family Foundation, you really need to do your homework. Many of these individual policies could exclude you if you have a pre-existing condition. Other policies may not have any coverage for maternity leave or they may place limits on prescription drugs and mental health care.
If you're thinking about using the individual market to cover that space of time when you're between jobs and waiting for coverage, keep in mind that you generally won't get coverage for preventive health maintenance, like a physical or dental exam. And most short-term plans last about 6 months. To explore your options in the individual market, check out www.ehealthinsurance.com.
4. Rein in your kid's spending
If you want to curb your kid's case of the gimme gimmes, your best bet may be empowering them to spend their own money.
Kids are bombarded with ads, says Nathan Dungan, of the financial services company Share, Spend, Save. Mom and Dad should send their own messages about money. This starts with allowance according to Dungan.
"Start an allowance system by the time your kids are 5 or 6 years old," he says.
This way when your kids start asking you for money, you can remind them about their own funds. Empowering your children early is a very powerful tool. Plan for that accountability.
"By the time they are 8 or 12 years old, their financial habits are already formed," he says. For kids in their teens or entering college, the most important lesson you can teach is the importance of a credit score, he says.
Today college seniors have credit cards with balances over $2,800 according to Nellie Mae. Check out www.myfico.com, which will give the basics of what factors influence a credit score and how credit scoring works.
You may also want to get your kid a prepaid debit card before they go off to college. This prepaid card will let your child make purchases that are deducted from an amount that's already available on the card. Parents can track spending and set spending limits. Major credit card issuers like Visa, MasterCard and American Express all offer prepaid debit cards.
5. Recognize scams
Complaints about bogus or mismanaged consumer credit counseling companies have skyrocketed in the past few years, according to the Better Business Bureau. And after the bankruptcy law takes effect next week, people will be forced to go for credit counseling.
This will mean there will be more consumer credit scam artists on the horizon, says Shelia Adkins of the BBB.
If you decide that you need some professional credit counseling help, watch out for some of these red flags. Be suspicious of any agency that claims to "lower your payments by 30 to 50 percent," says the BBB. That statement is rarely true.
Don't trust any company that claims it can evaluate your financial circumstance in minutes or over the phone. Make sure that you don't buy into claims that the company can remove negative information, like a bankruptcy, from your credit report. Accurate information cannot be removed from your report. And these services may not be cheap. You could be paying up to $75 in set-up fees and $40 monthly payment for credit counseling services.
It's important to make sure the credit agency is legitimate and that all fees are disclosed up front. You should only do business with agencies that give formal, written agreements or contracts. The contract should include the kind of services that will be performed, repayment terms, how long it will take to get results, any guarantees they're offering and the business address and phone number. Check out the Better Business Bureau at www.bbb.org or your state attorney general's office to find out about any documented complaints.
To find an accredited counseling agency, check out the National Foundation of Credit Counseling at www.nfcc.org or call 1-800-388-2227 or go to the Association of Independent Consumer Credit Counseling at www.aiccca.org.
---
Gerri Willis is a personal finance editor for CNN Business News and the host for Open House. E-mail comments to 5tips@cnn.com.