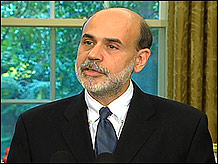 President Bush nominates Ben Bernanke to succeed longtime Federal Reserve Chairman Alan Greenspan. CNN's Kathleen Hays reports (October 25)
Play video

NEW YORK (CNN/Money) - One of the harshest critics of Federal Reserve Chairman Alan Greenspan in the Senate isn't much happier with the man nominated to succeed him, Ben Bernanke.
Sen. Jim Bunning, R-Ky., who was the only senator to vote against Greenspan's confirmation for his current and final term as Fed chairman, said he's disappointed that President Bush has nominated Bernanke to take Greenspan's place starting in February, saying he had not shown enough independence.
"Though I believe Dr. Bernanke has the qualifications to be Chairman of the Federal Reserve, I must oppose this nomination," said a statement from Bunning on his Web site. "(When) I met with Dr. Bernanke when he was a nominee to the board of governors of the Federal Reserve, he promised me that he would not be a rubber stamp for Chairman Greenspan but an independent voice who would stand up to the chairman when he believed he was wrong. Sadly, Dr. Bernanke never once cast a dissenting vote."
Bunning did not specify when he would have liked to see Bernanke split with Greenspan during his more than two years on the Fed board of governors or during his tenure as chairman of the Council of Economic Advisers since June.
But Bunning has been a critic of the Fed course of "measured" hikes in short-term interest rates in order to fight inflation, saying that there is not sufficient inflationary pressures to justify the 11 quarter-percentage point hikes since June 2004.
Bunning has also been a frequent critic of Greenspan speaking out on a wide variety of economic issues beyond monetary policy that is the responsibility of the Federal Reserve.
Bunning also did not specify who he would like to see nominated as Fed chairman, although he told CNBC Tuesday morning, "I know there are 20 economists out there who could do the job."
Bunning will get a further chance to voice his displeasure with Bernanke as a member of the Senate Banking Committee, which will vote on whether to confirm him as the head of the nation's central bank. But just as Bunning was a lone voice of dissent on Greenspan, he's not likely to derail Bernanke's confirmation, which is widely expected to pass the Senate with ease.
For more on Bernanke's nomination to succeed Greenspan, click here.
For more news about the Federal Reserve, click here.