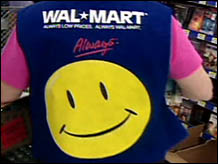 CNN's Andy Serwer reports on Wal-mart's proposal to raise the minimum wage and the No. 1 retailer's new health plan. (October 25)
Play video

NEW YORK (CNN) - A Wal-Mart vice president has suggested to the company's board of directors that it could hold down spending on health care and benefits by hiring more part-time workers and encouraging "healthier, more productive employees," according to an internal memo obtained by CNN.
CNN obtained the 12-page memo, written by Susan Chambers, ahead of the board's November meeting, from the Web site of Wal-Mart Watch, a strong critic of Wal-Mart's labor practices, which says the memo was sent to its offices.
Wal-Mart posted the memo on its Web site early Wednesday.
As the world's largest retailer and largest U.S. nonunion private-sector employer -- with more than 1.3 million "associates" in its U.S. stores -- Wal-Mart has been a lightning rod for criticism about its wage and benefits policies, and has been hit by lawsuits alleging gender discrimination. It also has drawn fire for allegedly stifling small businesses and squeezing its vendors.
In the memo, Chambers wrote that a survey of employees had shown that "associates are satisfied overall with their benefits [but] they are opposed to most traditional cost-control levers," such as higher deductibles.
"Most troubling," she wrote, "the least healthy, least productive associates are more satisfied with their benefits than other segments and are interested in longer careers with Wal-Mart."
Chambers acknowledged that the company's benefit offering "is vulnerable to at least some of" the criticism leveled at it, "especially with regard to the affordability of coverage and associates' reliance on Medicaid."
Chambers' memo proposes a number of ways that Wal-Mart could hold down spending on health care and benefits while minimizing damage to its reputation. Those proposals include nine "limited-risk initiatives" and five "bold steps."
The initiatives include increasing the number of part-time employees while making it easier for part-time employees to become eligible for benefits and offering a variety of benefits from which employees may choose.
Chambers also mentioned a plan already under way to add health clinics to stores.
The "bold steps" called for Wal-Mart to institute "consumer-driven health plans" with Health Savings Accounts that would go toward paying higher deductibles; restructuring the retirement program to put more money into health care and less into retirement; redesigning employment at Wal-Mart "to attract a healthier, more productive workforce"; making strategic investments to counter criticism; and improving communications about the company's benefits offering.
There was no date on Chambers' memo, but on Monday Wal-Mart CEO Lee Scott discussed the need to increase the federal minimum wage and a new "value option" health-care plan aimed at making insurance more available to employees.
Scott told company directors and executives that he was urging Congress to raise the minimum wage from $5.15 per hour "and take a look at ... other legislation that can help working families."
Tracy Sefl, a spokeswoman for Wal-Mart Watch, told CNN/Money Tuesday that Scott's comments on raising the minimum wage were "laughable and out of left field."
Scott also discussed a new health-care package with lower premiums for Wal-Mart workers.
The new "value option" plan, which will be introduced Jan. 1, offers insurance coverage for $23 a month "and kids covered for less than 50 cents per day ... no matter how many children," Scott said.
"We will offer this plan for $11 a month, with children covered for less than 30 cents per day, in some markets," he said, "and we are working to offer these savings nationally."
Under the new plan, a $1,000 deductible won't kick in until an employee or family member has seen a doctor three times. The first year carries a $25,000 insurance cap, and there are out-of-pocket payments ranging from $300 for prescriptions to $1,000 for hospital stays.
Health Savings Accounts, created by the federal government last year, would help with deductibles.
Sefl told The New York Times that the company's new plan is a "healthy person's plan [that] doesn't fully address the needs of a majority of their work force."
Currently, fewer than half of Wal-Mart's workers are covered by company health insurance, compared with more than 80 percent at Costco (down $0.82 to $47.10, Research), its leading competitor, the paper said. The company declined to estimate how many additional workers would be covered under the new plan.
Chambers said in her memo that the recommended changes would still leave "a significant number of associates and their children" qualified for Medicaid.
"Because many of these programs will offer more generous health insurance than Wal-Mart provides, many associates will still choose to enroll in Medicaid, leaving the door open for continued attacks" from the company's critics, she wrote.
But, she said, those working on the problems believe the advantages of their proposals outweigh the risks.
Shares of Wal-Mart (up $0.19 to $45.58, Research) were up nearly 1 percent in afternoon trading on the New York Stock Exchange.
_________________________
Wal-Mart gears up for a big holiday discount offensive -- Click here.
Elton John for Christmas -- Click here.