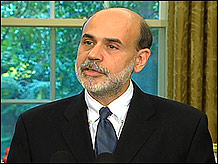 President Bush nominates Ben Bernanke to succeed longtime Federal Reserve Chairman Alan Greenspan. CNN's Kathleen Hays reports (October 25)
Play video

NEW YORK (CNN/Money) - Like many Americans, Ben Bernanke, the man nominated to be the next Federal Reserve Chairman, has a large majority of his financial holdings tied up in his retirement accounts, with relatively modest liquid assets.
And as Fed watchers scramble to parse out the differences between Federal Reserve Chairman Alan Greenspan and the man nominated this week to succeed him, one that stands out is the size and composition of their respective investment portfolios.
Not surprisingly, Greenspan, 79, who has headed the Fed for 18 years and worked as a private sector economist before that, appears to be quite a bit wealthier than Bernanke, the 51-year old former Princeton University college professor.
Both men's holdings are laid out in filings they were required to make with the Federal Reserve earlier this year. The filing asks for asset values and outside income in broad ranges, rather than specific amounts.
Bernanke's maximum holdings would be about $5.4 million if he was near the top of the range listed for each class of assets, but could be as low as $1.1 million.
Greenspan's assets are worth at least $4.2 million, according to his filing, with at least $3 million in Treasuries and bond funds, $800,000 in individual stocks, held directly or in his wife's 401(k) account and other assets worth more than $300,000.
The overwhelming majority of Bernanke's holdings are in his TIAA-CREF account, a retirement plan for professors at Princeton and many other universities.
His Fed filing shows that at the end of 2004 his TIAA-CREF account had a net worth between $1 million and $5 million, and produced income during the year between $15,000 and $50,000. Details about his investment choices within that plan were not available.
Bernanke's holdings other than the TIAA-CREF are relatively modest -- a high yield mutual fund valued at between $15,001 and $50,000, a large cap mutual fund valued at between $1,001 and $15,000, and two other retirement accountings, one an international growth fund and one a cash fund, both in $1,001 to $15,001 range.
He also lists between $50,001 to $100,000 in Canadian treasury bonds and between $15,001 and $50,000 in his checking and savings accounts.
The only individual stock listed in his filing was Altria (Research), but he sold his stake in that stock, valued between $1,001 and $15,000, in July 2004. He also sold his holdings in a fundamental growth fund valued in that range and made a TIAA-CREF account withdrawal of between $15,001 and $50,000 in May.
Unlike Greenspan, Bernanke has two young children and he holds some investments in accounts in their names. He reported that in July of last year he sold a number of holdings in their accounts, all valued at between $1,001 and $15,000 each.
They included zero-coupon treasuries, as well as holdings in a Legg Mason Special Investment Trust, an AIM Global Health Care Fund, an Alliance Technology Fund, a Columbia Newport Tiger Fund, and a Columbia Newport Greater China Fund.
He now has a balanced capital fund in his son's name worth between $15,001 and $50,000, and one for his daughter worth between $1,001 and $15,000, as well as cash accounts in both their names in the lower range.
Bernanke was paid $162,100 to be a Fed governor in 2004, and took a slight pay cut to become the chairman of the White House's Council of Economic Advisors earlier this year. He received royalties on one textbook from Pearson worth between $50,001 and $100,000 in 2004, and royalties on a another textbook from McGraw Hill worth only between $201 and $1,000. As of 2005 the Fed chairman is paid $180,100.
Greenspan's filing by comparison shows him invested primarily in Treasury bonds and bond funds. The Treasuries are listed as 42 separate holdings, worth at least $3 million, according to his most recent filing.
He also lists some individual stocks among his holdings, although the filing does not specify if it was Greenspan or his wife, NBC News correspondent Andrea Mitchell, who made those stock investments.
The filing shows purchases of between $1,001 and $15,000 in Pfizer (Research) shares, and between $15,001 and $50,000 in shares of Wal-Mart Stores (Research) in July of 2004, as well as the sale of stock in Del Monte Foods (Research) worth between $1,001 and $15,000.
Outside of at least $500,000 in General Electric (Research) stock held in his wife's 401(k) account, Greenspan's largest stock holdings are in Abbott Laboratories (Research) and Kimberly Clark (Research), both in the $100,001 to $500,000 range, and Anheuser Busch Cos. (Research) and H.J. Heinz (Research), each holding valued at between $50,001 and $100,000.
For more information about Bernanke and his background, click here.
For more information about the Federal Reserve, click here.