Autos
| | |
| --- | --- |
| 36 month new | 5.91% |
| 48 month new | 5.98% |
| 60 month new | 6.03% |
| 72 month new | 3.78% |
| 36 month used | 6.31% |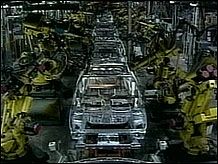 Facing an SEC probe, General Motors has also had to fend off rumors about its financial health. Dan Sloan reports (October 31)
Play video

NEW YORK (CNN/Money) - As bad as October sales are expected to be for General Motors Corp. and Ford Motor Co., the real problem for the nation's two largest automakers may still lie ahead.
Executives at the two companies have already signaled that they'll be reporting another sharp drop in sales for October when they report results Tuesday. They're mostly claiming that's only to be expected after sizzling summer sales, ignited by so-called "employee pricing" deals that helped clear dealer lots of 2005 models.
But experts say car buyers are also not embracing the 2006 models now arriving on dealer lots as quickly or enthusiastically as auto executives had hoped.
"This industry has a way of correcting itself, getting back to normal," said George Pipas, manager of sales analysis at Ford, about the impact of summer sales on this fall's results.
"The only question is does that hangover continue into November. I thought we might start getting back to normal in November, and I'd have to say today I'm not so sure."
Wall Street analysts say GM (Research) and Ford (Research) face two daunting problems.
The first is trying to rejuvenate sales of large pickups and sport/utility vehicles given high prices at the gas pump. The big vehicles account for most of their sales.
The second is that the automakers are fighting to attract buyers into showrooms without the high-profile sales incentives they've come to expect.
"I think most of the weakness in October is due to hangover from the early clear-out of the 2005 models," said David Healy, analyst with Burnham Securities. "But in addition, they've got some weakening in the mix, with fewer of the pickups and SUVs they depend upon. The hangover ain't permanent, but I wonder if the mix shift might be."
Both announced lower manufacturers' suggested retail prices on a number of 2006 models in August in a bid to start weaning customers off incentives, a strategy known as "value pricing."
But Bob Schnorbus, chief economist for auto sales tracker J.D. Power & Associates, said that so far buyers seem to be waiting for prices to come down further.
Schnorbus said the value pricing offers from GM and Ford aren't offering buyers as clear a message as did the employee pricing programs from last summer, or the zero-interest loans popular in the three years before that.
"It's not clear what the value pricing programs are, other than everyone knows they're not as good as employee pricing," said Schnorbus. "So consumers are betting, and probably betting wisely, that offers will get better by the end of this year."
He said industrywide U.S. auto sales in October are almost certain to be the weakest of the year, maybe the weakest in several years.
Schnorbus said he would expect both GM and Ford to make a big push on incentives in December as they have the last few years in order to try to hit some year-end sales targets. But he said that will only cut into first quarter 2006 sales and undercut the effectiveness of the value pricing efforts.
Healy also said the latest marketing pushes by GM and Ford are off to tough starts.
"They're trying to introduce value pricing at the worst possible time, when everyone who was going to buy one of their cars just did so," said Healy. "I think value pricing is the way to go, but the transition is going to be painful."
Ford and GM are hoping that some new models that they're rolling out in coming months will start to stem the market share losses they're now seeing to Asian automakers as well as Chrysler.
Ford rolled out the first of its new sedan, the Fusion, in October, a vehicle that the automaker hopes to eventually compete with the Toyota Camry and Honda Accord as a top-selling car.
But Pipas said the first Fusions, along with Ford's Lincoln and Mercury twins, only started arriving at showrooms in October.
GM will roll out new versions of its large SUVs and pickups in early 2006.
Schnorbus agreed critical acclaim for those new models will be crucial for GM and Ford to stem their slide in market share. He points to the role that the Chrysler 300 has had in helping DaimlerChrysler's (Research) North American unit start making gains in market share in the two years.
"They need to come out with a product that captures the public imagination the way that the 300 did to get people into their dealers' showrooms," he said.
"Even if they don't buy the 300, they might buy something else. Right now GM is having a terrible time getting people into the Buick showrooms, for example. If you can't get them in the showroom, you don't have a chance to sell to them."
For more news on autos and automakers, click here.