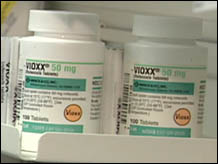 Drugmaker found not liable by a New Jersey jury concerning its former blockbuster drug Vioxx. CNN's Chris Huntington reports.
Play video

NEW YORK (CNN/Money) - Merck & Co. was found not liable by a New Jersey jury Thursday in the second Vioxx trial -- a key victory for the troubled drugmaker as it faces thousands of other lawsuits over the painkiller.
The jury found that Merck did not fail to warn consumers about the safety of Vioxx, was not guilty of fraud, did not misrepresent the cardiovascular risks of the drug while marketing it to physicians, and did not conceal information about the drug.
"We feel very much vindicated by that finding," Kenneth Frazier, senior vice president and general counsel for Merck, said in a teleconference with reporters, as he vowed to continue fighting the cases one by one. "We do not intend to roll over in these cases when people bring unsubstantiated cases into court to try and extract money from Merck."
Merck (Research) shares jumped 3.8 percent after the verdict.
Merck, the nation's second-biggest drugmaker, faces about 6,400 lawsuits over the arthritis painkiller that it pulled from the market in September 2004 after a study showed an increased risk of heart attacks and strokes in patients using Vioxx for at least 18 months.
On the conference call, Frazier also said Merck is discussing with the Food and Drug Administration the possibility of bringing Vioxx back to market, though he declined to get into details.
"We are speaking to regulators," said Frazier. "We have not made a decision to bring the drug back to market or not bring it back."
"Unfortunately, Mr. Humeston had his day in court and I don't think he got what he deserved," said attorney Chris Seeger regarding his client Frederick "Mike" Humeston, a 60-year-old Vietnam veteran and postal carrier from Boise, Idaho, who sued Merck after suffering a heart attack in 2001.
Humeston, who was taking Vioxx for pain from knee injuries, blamed Vioxx for causing the blood clot that led to his heart attack.
"I feel like I got kicked in the stomach," Seeger said. "I feel bad for Mr. Humeston. The whole case was trashing Mike Humeston."
Humeston, the plaintiff, spoke to reporters following the verdict. "I wish to impart to other plaintiffs -- do not let this deter you because Vioxx is a bad product," he said.
In the teleconference, Merck counsel Frazier objected to accusations that company lawyers had "trashed" the plaintiff. "We don't trash people," said Frazier. "That's locker room talk."
Jim McHugh, a lawyer based in Philadelphia representing about 400 New Jersey plaintiffs suing over Vioxx, accused Merck of escaping liability by treating Humeston as if he was lying on the stand and by presenting a witness, Briggs Morrison, vice president of Merck Research Labs, who changed his testimony.
"The only reason that the jury could come back with this not liable verdict is because of the dirty tactics used by Merck," said McHugh, who plans to file a total of 2,000 cases against Merck by next year. "They impugned this plaintiff's character. They attacked [Humeston] as if he was a political candidate."
The verdict in New Jersey Superior Court in Atlantic City is the first Vioxx-related victory for Merck. The drug giant was found liable in its first case, a wrongful death suit in Superior Court in Angleton, Texas.
The plaintiff in that case, Carol Ernst, was awarded $253 million by the jury for the 2001 death of her husband, a Vioxx patient -- though her lawyer, Mark Lanier, said she will probably receive $26 million plus interest because the jury award exceeded what is allowed by Texas law.
Of the cases still pending, nearly 3,000 have been consolidated in federal court under Judge Eldon Fallon. Litigation in those cases will begin Nov. 28. The federal trials were originally slated for New Orleans, but after the city was ravaged by Hurricane Katrina, they were moved to Houston.
Merck counsel Frazier said the first federal lawsuit was filed by the Evelyn Irvin Plunkett, widow of Richard Irvin, a former Vioxx patient who died of a heart attack after taking Vioxx for one month.
"Mr. Irvin would have suffered a heart attack when he did whether he took Vioxx or not," said Frazier. "We look forward to defending this case."
Lanier, part of a legal "dream team" representing some 20,000 plaintiffs, said he plans to file cases in state court and resist attempts by federal officials to consolidate the cases. Lanier plans to file the first of these cases in New Jersey Superior Court on Monday. (Full story).
"You got to really show [jurors] very clearly what Merck did wrong and you need to have your hands clean when you do it," said Lanier, who added that jurors in the Humeston case had "problems with the integrity factors that went along with this plaintiff."
"If jurors think the plaintiff has dirty hands, it's hard for the plaintiff to argue about how dirty Merck is," said Lanier.
No strategy change seen
Merck had more to lose than to gain from the Humeston trial, analysts said, though the drug maker was considered unlikely to change its legal strategy even in the event of a second loss. The company and its lawyers have insisted that Vioxx never caused anyone's heart attack and denied accusations that Merck concealed negative information about the drug.
"I would say that Merck's been so adamant in its position that I would be extremely surprised if they change their position after only two cases," said Barbara Ryan, analyst for Deutsche Bank North America, prior to the verdict.
Ryan said the victory would be a "modest positive for the stock, modest because they have 6,000 cases behind this one."
David Moskowitz, analyst for Friedman, Billings & Ramsey, upgraded his rating for Merck to "market perform" following the verdict.
"We believe that the highly favorable decision for the company could discourage a landslide of new cases in the near term and cast doubt on the success of lawsuits currently filed in New Jersey," Moskowitz wrote in a report.
Unless Merck decides to settle, which is has vowed not to do, the Vioxx battle is far from over. Back in May, Judge Fallon said the tally of federal lawsuits could eventually reach 100,000.
Two other drug companies suffered multi-billion dollar damages when their products were held liable for serious health problems. In these cases, potential damages were dampened by bankruptcy or settlement:
Back in 1999, when drug maker Wyeth (up $0.63 to $44.70, Research) was called American Home Products, the company agreed to pay a $3.75 billion settlement. That sum went to thousands of people who used the company's diet drugs before they were linked to heart disease and taken off the market in 1997.
Also in 1999, Dow Corning Corp. was ordered by a federal bankruptcy judge to pay $3.2 billion to 170,000 women who had health problems stemming from the company's silicone breast implants. Dow was ordered to pay an additional $1.3 billion to settle claims from creditors and health care organizations.
-----------------------------------------------
To read about Merck's third quarter earnings, click here.