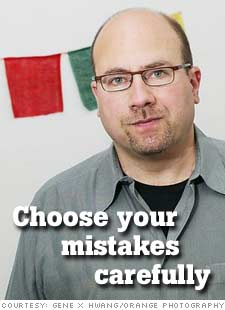 Craigslist founder Craig Newmark
NEW YORK (FORTUNE) - Craigslist, the mostly free online classifieds Web site, is about to make more money. The company plans in 2006 to begin charging employers to post job listings in four new cities: Boston, Washington, D.C., San Diego and Seattle. It's also set to collect a nominal fee, no more than $10, from New York City real estate brokers for their property listings.
The changes are meant to instill discipline in cluttered categories. But they're a good example of how Craigslist, which practically goes out of its way not to cash in, is causing major heartache in the newspaper business. Craigslist's numbers are mind-boggling. Ten million Craigslist users click on an estimated 6.5 million classified postings each month at 190 local sites in 35 countries, generating three billion page views.
Craigslist is also mind-bogglingly small. It has just 18 employees and no sales or marketing departments. The site itself is bare bones. From Albany, N.Y., to Zurich, it looks exactly the same -- a sea of fine print whose only graphic element is a calendar set to the current month. The listings are all text, divided into a handful of basic categories, such as "jobs" or "for sale." They are not searchable by ZIP code; there are no ads or even boldfacing.
The privately held company currently makes all its money -- 2005 revenues are in the neighborhood of $20 million -- by charging employers in three cities a fee for listing jobs: $75 in San Francisco, $25 in New York and Los Angeles. Total annual expenses -- salaries, rent and about 100 server computers -- cannot possibly run to more than $5 million. All the content comes from the site's devoted users, who provide the listings that are its lifeblood, for free. The company that is indifferent to money, therefore, gushes profits. Still, it is hardly a colossus.
Unless, that is, you are part of the dead-tree crowd. Newspapers earned 36 percent of their 2004 revenues and a large chunk of their profits from classified ads -- and Craigslist is burning up that market. So far, nationwide classified revenues continue to grow. But in cities where Craigslist is well established, the trends are ominous. In San Francisco, for example, Classified Intelligence Report, an industry newsletter, found that the major newspapers lost more than $50 million in classified revenue in 2004 because of the Craigslist effect. With several major papers announcing job cuts, and the stock prices of all the major newspaper groups down at least 10 percent this year, this old-economy stalwart may be primed for a world of hurt.
Jim Buckmaster, Craigslist's CEO, whose conversation drips with disdain for the corporate mass media, is unapologetic. "The media conglomerates are still extremely profitable," he argues. "We don't like to see journalists' jobs impacted, but there'll be a need for serious journalism going forward, and we're confident those people will be able to make at least as good a living as they're making now."
Online disruptors like Monster.com and Yahoo's HotJobs divert money from papers into their own pockets; Craigslist sucks money out of the system entirely. "They have become nothing less than a force to be reckoned with," says Tim Fagan, president of Apartments.com, a site owned by six major newspaper companies.
Even as Craigslist flexes its considerable muscles, the disruptor is facing the challenge of disruption. Newspapers are fighting back with specialized ad options and enhanced services. eBay has started Kijiji, a classified business for non-U.S. markets that can only be described as Craigslist-like. Netscape co-founder Marc Andreessen is behind a company called Ning, whose software includes an application called Anytown Marketplace that can build online classified sites.
The biggest threat, as usual, is Google. It has introduced Google Base, where users can upload anything -- e.g., "49ers tickets for sale" -- into its searchable database. Piper Jaffray analyst Safa Rashtchy calls Google Base "Craigslist on steroids." Google's technological prowess -- and money -- mean it can add features in weeks that Craigslist has contemplated for years.
If only Newmark and Buckmaster cared. "We don't even really think in terms of competition," says Buckmaster. "Our site usage is growing at, like, 200 percent per year. If the activities of other companies cause that number to be reduced, I don't think we'll necessarily lose sleep. It's probably inevitable." Buckmaster says he's more focused on a long list of projects, including adding cities, introducing foreign-language support outside the U.S., connecting regional sites and improving search capabilities.
Even if Craigslist gets squashed, newspapers will still be in trouble. Because it is the premise behind Craigslist -- free, instant ads -- that is the fireball sucking the oxygen out of newspaper revenues. Whether Newmark and Buckmaster acknowledge it or not, their brilliant innovation is illustrating not the Golden Rule taught on Sunday but the one taught in Economics 101 -- that in capitalism, destruction goes hand in hand with creation.
To read full article, click here.