Prized - and pricey - ham arrives in U.S.
A Maine artesian-foods importer this month becomes the first U.S. company to legally bring in Spain's famed jamón ibérico de bellota - for $180 per pound.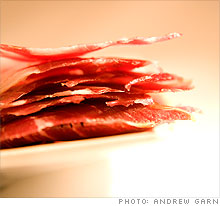 (Fortune Small Business) -- Comparing the taste of jamón ibérico de bellota to prosciutto is like pitting fresh-caught grilled salmon against freezer-section fish sticks.
Bellota is rich and nutty and smooth, a power-packed punch of flavor that lingers on the tongue. Never heard of the delicacy, which comes from Spanish hogs that range freely and subsist primarily on acorns? That's because no Spanish slaughterhouse was certified by the USDA for import until 2005. This month the Rogers Collection, a distributor in Portland, Maine, begins importing bellota, making it available in the U.S. for the first time.
"It's the best ham in the world," says chef Terrence Brennan, who will serve it at Picholine in New York City. "Even the fat is delicious. It's right up there with truffles and caviar."
The ham sells for $180 per pound (Kobe beef sells at $100), but Taylor Griffin, owner of the Rogers Collection, is bullish about sales. Famed Spanish chef José Andrés of Café Atlántico in Washington, D.C. - who facilitated the deal between Griffin and his Spanish producer - has already signed up for allotments, as have gourmet food shops such as Zingerman's Delicatessen in Ann Arbor, Mich.

To write a note to the editor about this article,
click here
.



My dream is to launch my own business someday. Now that it's time to choose a major, I'm debating if I should major in entrepreneurial studies or major in engineering to acquire a set of skills first. Is majoring in entrepreneurship a good choice?
More

- Spate, Orange, Calif.

More Small Business

Next Little Thing 2010