Entrepreneurs look to candidates for health care reform
Both McCain and Obama promise health-care changes, but entrepreneurs should be wary of the prescriptions.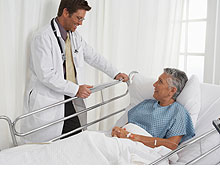 (Fortune Small Business) -- Jody Hall considers herself lucky to be able to offer health insurance to the 55 employees of her two Seattle coffeehouses, Vérité Coffee and Cupcake Royale. But she may not be able to afford it much longer. Her premiums, currently $6,000 a month, took a staggering 40% leap last year. Even that is just for major medical, coverage that she calls "compromised." And it's available only to employees working at least 30 hours a week, who must still pay 25% of the cost.
"We are getting hammered," she says. "I am happy this is an issue in this election."
Hall, 41, is not alone. Health care has spent 20 years as the No. 1 concern of small-business owners, according to the most recent Small-Business Problems and Priorities survey released by the National Federation of Independent Businesses. And a recent Fortune Small Business/Zogby International poll of entrepreneurs found that health care would be one of their top five deciding factors in the presidential election.
It's easy to see why. In 2000, 68% of small businesses provided health-care coverage, according to a 2007 survey by the Henry J. Kaiser Family Foundation. By last year that figure had fallen to 59%.
Senators Barack Obama and John McCain are both acutely aware of the new momentum for health-care reform. Both have made it a major talking point. But which plan is better for small business? That depends on how well your business is doing and how much money you have to spare.
"Senator Obama's plan is better for small-business owners who are now providing health care to their employees or are looking to provide it," says Karen Davenport, a health-care policy expert for the Center for American Progress, a liberal-leaning think tank in Washington, D.C. "Employers who would like their employees to have health care, but not through work, will be better off under Senator McCain's plan."
Both plans are short on details and long on questionable assumptions. Obama proposes a national, government-sponsored health plan from which small businesses and individuals could buy insurance featuring benefits and coverage similar to those in the plan now enjoyed by members of Congress. It would be sold through a National Health Insurance Exchange that would act as both a market and a regulatory agency. Through the exchange, Americans could either buy the public plan or opt for a participating private plan.
The exchange would regulate the cost of private plans sold through it, ensuring that they charge an undetermined "fair and stable" premium. No insurer would be allowed to refuse coverage based on past or current health problems, and plans sold through the exchange would need to justify any above-average premium increases.
To pay for the plan, Obama would force all but the "smallest businesses" that do not offer health insurance to pay a new tax. While the Obama campaign has not defined "smallest," it has indicated that the plan would cap the number of employees and apply a revenue threshold so that small, high-income businesses such as law firms would not be exempt.
McCain would neither create a national health-care plan nor regulate insurance prices. But in some ways his plan is more radical than Obama's: McCain intends to take health care out of employers' hands and make obtaining insurance the responsibility of individuals and families.
This approach would make health insurance portable from job to job and across state lines, essentially lowering costs by letting individuals buy the cheapest insurance available anywhere in the country. Families and individuals who were not covered through a job would be eligible to receive a $5,000 refundable tax credit ($2,500 for individuals) toward the cost of private insurance, paid directly to the insurance provider. And McCain would work with states to create so-called guaranteed-access plans, basically quasi-public insurers that would accept any applicant.
McCain's campaign estimates that his plan would cost about $10 billion a year, while the Obama campaign puts the annual cost of its plan at $50 billion. Critics of McCain's tax credit note that he is offering families less than half of the $12,000 it costs to insure a family of four annually. Meanwhile, McCain frequently claims that Obama is raising taxes on 23 million small-business owners, even though only about six million of them have employees.
Still, McCain's arguments are appealing to Karen Deklinski, owner of Perfectly Pennsylvania, a six-year-old souvenir shop in the Harrisburg, Pa., airport. With 10 employees, seven of them part-time, Deklinski's business did not qualify for most group health coverage. Under McCain's plan, she feels, her employees would have a better chance of finding insurance.
"The Obama plan would affect my business," Deklinski, 51, says. "That is money I could not put into inventory, into increasing wages. It takes flexibility away from me as an employer."
Hall, on the other hand, feels she has a moral responsibility to provide insurance.
"Part of being a human being in the United States is to offer your employees health-care coverage," she says. "I offered insurance as soon as I could afford it. I am lucky to be able to offer it, because my business is doing well."

To write a note to the editor about this article,
click here
.



My dream is to launch my own business someday. Now that it's time to choose a major, I'm debating if I should major in entrepreneurial studies or major in engineering to acquire a set of skills first. Is majoring in entrepreneurship a good choice?
More

- Spate, Orange, Calif.

More Small Business

Next Little Thing 2010