Feeding Google: A chef's story
Charlie Ayers, the chef who made Google's cafeteria famous, is now running his own restaurant in Palo Alto.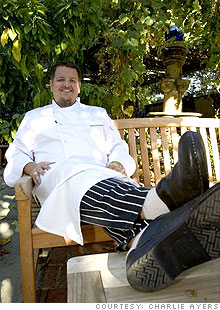 (Fortune Small Business) -- The chef who made Google's cafeteria famous opened his own restaurant last month in Palo Alto. Charlie Ayers's inspiration for his Calafia Café & Market a Go Go was the healthy gourmet food he dished up for employees of the search-engine giant. He promises that all food will be sourced from within a 150-mile radius, and many menu items can be found in his new book, Food 2.0: Secrets From the Chef Who Fed Google.
Since leaving Google (GOOG, Fortune 500), where he oversaw five sous-chefs and 150 employees serving 8,000 free meals daily, Ayers has been helping businesses bring tastier food to the company cafeteria. Fortune Small Business chatted with Ayers about making the transition from chef to small-business owner.
What's it like running your own business after working at a place as richly funded as Google?
It's hugely challenging not having that infrastructure. I hadn't paid a cellphone bill in six years. All of a sudden I'm like, "I can't send that to accounts payable!"
How did Google change?
In the beginning it was very rough and crude. They were very budget-conscious. But the one area they insisted on splurging for was food.
Are you able to leverage your experience there?
I use a list of vendors I had at Google and put them into a package for clients. The vendors give me better pricing than they would if the companies were just cold-calling them.
Who are your clients now?
Startup tech companies, including Zazzle, LinkedIn, and Ning. I'm taking what I did at Google and offering it to small startups. They see the value in creating a culture early on.
Do you have advice on growing a business in hard economic times?
If you can do it yourself, then do it. Don't be afraid to wear many hats. Surround yourself with qualified, creative, honest people who share in your vision for success.

click here
.



My dream is to launch my own business someday. Now that it's time to choose a major, I'm debating if I should major in entrepreneurial studies or major in engineering to acquire a set of skills first. Is majoring in entrepreneurship a good choice?
More

- Spate, Orange, Calif.

More Small Business

Next Little Thing 2010