Entrepreneurs bring the blues back to Jackson
Once a jazz and blues mecca, Jackson, Mississippi's historic but run-down Farish Street gets a major facelift.
Photos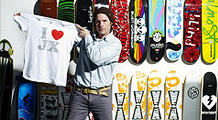 JACKSON, Miss. (Fortune Small Business) -- When David Watkins visits Farish Street in Jackson, Miss., he looks past the dilapidated, vine-covered buildings and sees the future.
"We think this is going to be a culturally rich entertainment district," says Watkins, 59, a lawyer and entrepreneur who is working to resurrect the four-block-long strip.
In the era of segregation, Farish Street was the business and entertainment epicenter for Jackson's African American community. During the day the street hummed with commercial activity. At night the good times rolled. Music was always key to Farish Street's success; bluesman Charlie Patton played the strip, and jazz icons Louis Armstrong, Count Basie and Duke Ellington headlined its clubs.
"When I was growing up in the 1960s, the area was really thriving," says Roderick Ephram, 43, who runs Peaches' Cafe, a family-owned soul food place that opened in 1961. "We had a lot of doctors and lawyers down eating here."
But with the end of Jim Crow the area declined, as African Americans started spending their entertainment dollars elsewhere. Farish Street succumbed to urban blight.
For thirty years various groups have warred over neighborhood, alternately planning to raze or rebuild it. Meanwhile, the street was listed as a historic district on the National Register of Historic Places and earned two markers on the Mississippi Blues Trail, one for the Alamo Theater where B.B. King and Nat King Cole held court, and one for Trumpet Records, the recording studio where Elmore James laid down his slide-guitar classic "Dust My Broom."
Some major operators have tried to cash in on the lost glory. In 2004, the City of Jackson brought in Performa Entertainment, the group that redeveloped Beale Street in Memphis, to resurrect Farish Street.
Watkins, a longtime power player in Jackson, was initially on the periphery of the project - aware of it but not involved. For most of his career he was an attorney with two of the city's white-shoe firms. But a few years ago, he found himself restless. "I was losing my identity and just beginning to really feel my entrepreneurial spirit," Watkins says. "I just did not feel like I was making the kinds of contributions to my community that I needed to be making."
So when HRI Properties, the New Orleans-based developer contracted to rehabilitate the historic King Edward Hotel near Farish Street, asked Watkins to be involved in that project, he agreed.
"All of a sudden this new life of being a real-estate developer let me use the skill sets I had acquired in the law," he says. "I like to say I've spent 35 years preparing myself to do the types of things I love to do."
Based on Watkins' work with the King Edward, Performa CEO John Elkington asked him to consult on Farish. Watkins agreed, thinking he'd do what he could from the sidelines. But when Performa and the city came to an impasse in late 2008, Watkins became the only stakeholder left standing.
"After a lot of prayer and thought, I realized that I needed to put together an investment group and buy Mr. Elkington out," Watkins says.
He created a development company, Watkins Partners, and took a 50% ownership stake in it. He then gave 30% of his stake to his employees. The other 50% of the company is controlled by five other investors, including New Orleans Saints running back Deuce McAllister. Watkins also hired Brad "Kamikaze" Franklin, 34, a rapper/businessman who grew up around the street, as a community liaison to help regain the trust of area residents.
"People have heard promises about Farish Street for ten to 15 years," Franklin says. "They've heard it over and over again. I know how it is to feel like you're being sold a bill of goods."
They'll soon get the chance to judge for themselves. Nearly all the strip's new tenants are small businesses scheduled to open their doors this fall. There will be several blues clubs, including B.B. King's Restaurant & Blues Club and a reborn Subway, the legendary Jackson juke joint that closed in 2003. There will also be artists' studios, galleries and restaurants joining the few businesses that still reside on the strip, including Farish Street Baptist Church and Peaches, a café that has operated on Farish since 1961. In future phases, Watkins and Franklin envision more music and arts, plus a gospel museum, hotel and a radio station.
To finance the $80 million restoration project, Watkins and his partners invested their own money and obtained low-interest loans from the state. Now they're turning to the federal government for help, hoping that President Obama recalls his June 2007 visit to Farish Street, when he dined at Peaches'.
"We're going to ask for stimulus funds from the Obama administration for the infrastructure work that has to be done," says Watkins, who anticipates that the project will bring 650 new jobs to Jackson - 10% of them for full-time musicians.
Ben Allen, a former city councilman and president of Downtown Jackson Partners, a nonprofit that promotes economic development, thinks Watkins' numbers are conservative. "It's incalculable how many jobs this will create," says Allen.
But the partners recognize that the country is in a recession, and many high-minded urban redevelopment projects are sitting half-finished. They have pushed the project's completion date back from this spring to the end of 2009, giving them time capitalize on the fall opening of the King Edward Hotel and other new ventures taking root downtown.
Farish has the advantage of the foundation laid by Performa during the boom times. Some logistical challenges, such as asbestos mitigation and sort out early financing problems, have already been taken care of. So, for the first time, officials, business leaders and residents are tentatively convinced that Farish Street might actually be revived. After all, nobody expected the King Edward - a bombed-out shell of a building that had been an eyesore for decades - to ever reopen.
"Farish will be part of my legacy," Franklin says. "It will be here for my kids and my kids' kids. I've preached to other hip-hop artists about being smart businessmen and planning for a time when you might not be doing music. This serves as a living example. I'm making being a businessman cool. That to me is the most satisfying thing, merging those two worlds."
"Ultimately, we see this as a piece of history," Watkins adds. "I want to take my grandchildren there so they can get the history of Jackson, the blues and the civil rights struggle - and good food and art."

To write a note to the editor about this article,
click here
.