A frontline view of the Great Recession
Business owners in every industry are struggling to keep costs in line with their declining sales.
Photos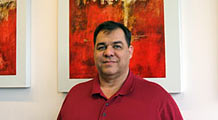 FARMINGDALE, N.Y. (CNNMoney.com) -- Behind every statistic about whopping job losses and the shrinking economy are thousands of small businesses battling the everyday realities of trying to survive with less staff and fewer customers. Three weeks ago, a group of entrepreneurs from peer advisory group The Alternative Board (TAB) gathered to discuss their view from the frontline of the recession.
"I've managed to cut so much already, but I wonder, what's left to cut?" asked Ken Villani, president of Cottage Pharmacy and Surgical in Woodbury, NY.
"People aren't buying breakfast on the way in to work," said Owen Mester, whose Maspeth, N.Y., bakery makes and distributes yogurt muffins that get sold throughout the New York metropolitan area. "My competitors - I don't know how - are offering a month of free delivery. I'm not sure how to counter that. At some point, we still have to still run the business."
Five of the six business owners at the meeting saw their sales fall last year, with the declines ranging from 8% to 40%. Most expect this year to be equally grim: Only one owner thought his sales for 2009 would be higher than last year.
To adjust to the new economic realities, business owners are shaving their staffing down to the bone. Businesses with fewer than 50 staffers have collectively shed 1.4 million jobs in the past six months, according to estimates by payroll processor ADP.
Nearly two dozen of those cuts came from the TAB group members. Mark Rickard, president of Rickard List Marketing in Melville, N.Y., has recently reduced 25% of his staff as a result of selling a division, layoffs and retirements. He wonders what else he can do to keep costs in line with his diminished sales. "In our future, I don't see us laying off another person," he said. "But I think there are other creative things we can do, like two weeks' unpaid vacation or temporarily dropping the salaries 5%. One of our competitors just did 10% across the board."
Managers are taking a hard look at their remaining staffers - no one can afford to carry marginal performers these days. One member of the group who runs a financial planning firm believes that his business will emerge from the downturn stronger if he can replace one of his employees with a more experienced candidate. "We are overpaying him - he's not technically sharp enough," he explained. "We didn't trust him with a project and we bypassed him to give the work to another person. I can't afford to recheck everything he does. In this economy, we need to stress our efficiencies."
Others are cutting payroll costs by relying more heavily on less expensive entry-level hires. "We have laid off employees, but this year we will hire more students from college and high school to help the technicians," said Frank Kelly, president of commercial air conditioning and heating firm Kelair in Port Chester, N.Y. "They'll be gofers for the summer. I'll pay them, but they won't need benefits. And I won't have to carry them for the year. That may save me quite a bit of money."
There's one silver lining for business owners in the grim job market: When they need to hire, they can hold out for an exceptional candidate. "For one ad I placed, we got 400 resumes," said James Buonfiglio, president of C&B Consulting Group in Syosset, N.Y. "In this market, we can pick the best people out there."
But staff cuts alone won't balance the books. TAB's entrepreneurs are trying to squeeze every possible efficiency out of their operations.
With new customers, direct-mail marketer Rickard has been more diligent about collecting payment within 60 days. At Villani's pharmacy, the average amount customers spend per transaction has gone down. To compensate, he's issuing extra coupons to get more people into the store.
C&B Consultant Group's Buonfiglio has increased the time his business spends catering to its existing clients. C&B advises midsize companies on their employee benefit programs. Working with the CFOs of his clients' companies, Buonfiglio and his staffers are conducting cost-control audits. At the meetings, the teams examine what each client is spending on benefits and how the business can save money without negatively affecting its employees.
"It's been a tremendous amount of work," Buonfiglio said, adding that the company has been far busier than it usually is at this time of the year. His work is paying off in increased customer satisfaction and more business from current clients. Meanwhile, the auditing process is now a new service that he can pitch to prospective clients.
Economic experts say there are signs the economy may have already hit bottom and begun its rebound, but down in the trenches, business owners see a hard slog ahead. Those gathered for the TAB meeting predicted it will be at least a year or two longer before they feel the effects of an economic turnaround.
"I think we'll see some recovery in the first quarter of 2010, but the aftermath may last a year," said Owen Mester, the baker. "The unemployment numbers, for example - I can see them lagging for months."

Could your business use a makeover? In general, successful Makeover candidates are profitable small companies with at least $1 million in annual gross revenues. To submit your firm for consideration,
e-mail the FSB makeover editor here
. Please describe your business briefly, provide your most recent and projected revenues, and explain why you think your company would benefit from a Makeover.