An office where work is a family affair
At Maya Design, it's Bring Your Baby to Work Day - all year long.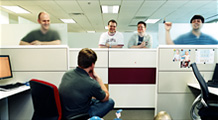 Free beer, generous vacation leave, and a say in company decisions - see how 7 innovative companies are inspiring workers and boosting the bottom line.
(Fortune Small Business) -- After taking a six-week, fully paid maternity leave earlier this year, Francine Gemperle was anxious to resume her job but reluctant to be away from her infant daughter, Veronica. Fortunately, she didn't have to choose between them. Maya Design, a Pittsburgh-based creative consulting firm, allows parents to bring newborns into the office.
"If I'd had to leave my children after my maternity leave ended, I would never have gone back to work," says Gemperle, 34, a designer and researcher, who also brought her son Milo into the office after he was born.
She's not the only parent taking advantage of the perk. Senior analyst Jon West brings his 10-month-old son, Owen, to the office several times a month. In fact, when West considered using only part of his paternity leave, his co-workers urged him to take all six weeks.
"I had pressure to take that leave," recalls West, 42. "People told me, 'It's an important part of your life and you need to experience it.' "
Of course, having a bassinet or crib beside a colleague's desk could easily create tension among the staff -- especially at a firm like Maya, which has an open floor plan. "No matter how quiet the baby, it's an obvious distraction," says Tory Johnson, the chief executive of Women for Hire, a New York City-based recruiting firm.
No one has complained yet. Even if somebody did, it wouldn't matter to Mickey McManus, Maya's CEO and president, who argues that the policy builds loyalty and helps parents shift back into work mode.
"Babies at work, four-week vacations, continuing education -- it's important to strike a good balance between work and life," he says.
As part of its balancing act, Maya shares up to 20% of quarterly profits with its employees. However, the size of those checks might be up in the air at the moment. Although McManus claims profits are up -- he wouldn't disclose annual revenue -- the firm laid off five workers in the first quarter of 2009 and has frozen salaries for the past three months; it's also considering four-day weeks to avoid more layoffs. All tough decisions - so how should they be handled?
"Be incredibly transparent," McManus advises, "so workers know they can trust you."

Talk back: Tell us how your company motivates its staff.

To write a note to the editor about this article,
click here
.