Bringing Icelandic fashion to the U.S.
An Icelandic designer seeking a broader market gets a visit from our Makeover squad.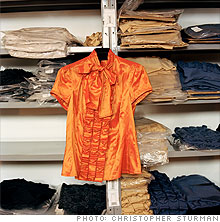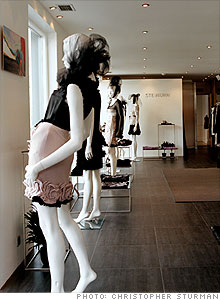 Photos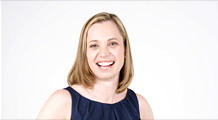 NEW YORK CITY (Fortune Small Business) -- Coco Chanel once described fashion as a "fickle business." In today's recession the statement rings especially true. With more than 20 years' experience, including senior design posts at Gucci and Ralph Lauren, Icelandic women's wear designer Steinunn Sigurd understands the rag trade's capricious nature.
In 2000, while working as European design director at La Perla in Bologna, Italy, Sigurd withdrew $10,000 from her savings account and returned to her hometown of Reykjavík to launch her own collection, Steinunn. Nine years later Steinunn generates more than $1 million in annual revenues, selling from the brand's flagship store in Reykjavík and in 24 high-end, multidesigner boutiques around the world, including Takashimaya in New York City and Stil in Boston. The look is simple and edgy, in shades of mostly black and gray, inspired by the Icelandic landscape; pieces in the line range from $85 scarves to $900 dresses.
Sigurd, now 46, is a leader in Reykjavík's vibrant arts community. She has dressed the first lady of Iceland and won several Scandinavian design awards. But outside Europe her recognition is low. She says she has always had trouble persuading boutique owners to buy more than just a few items per season and fears that her company has nowhere to go without wider brand exposure and a major expansion in the American market.
Sigurd would like to open Steinunn stores internationally in the next five years -- ultimately branching into men's and children's clothing, as well as into handbags and home accessories -- but she lacks the capital and the industry clout to achieve that goal.
Building buzz
To help Sigurd assess her options, Fortune Small Business recruited three experts to meet with the designer one-on-one in her Manhattan showroom. Alana Varel, chief operating officer of international public relations firm Starworks, based in New York City, represents such indie fashion brands as Agent Provocateur and Temperley London and promotes "celebrity product placement," code for getting stars to wear certain designer labels to events.
"Celebrity is the current trading commodity," says Varel, 37. "We live in a who-wore-what-obsessed age."
In the past five years, she says, such celebrity-focused magazines as People (published, like FSB, by Time Inc.) and Us Weekly have surpassed Vogue and other fashion bibles in shaping consumer spending and demand.
"When designer items appear in those weeklies, they sell out," she says. "Immediately people want to know: Who made that? Where can I buy it?"
Appealing to actors and musicians is also a fairly easy (and cheap) way to build buzz. Varel urges Sigurd to begin exploring relationships with celebrities -- in the U.S. and Iceland -- either through their publicists or stylists or by hiring a public relations firm that can facilitate contact. When choosing a public relations firm, "you don't want to be the smallest brand at the biggest firm," Varel advises. "And require any PR firm you work with to create a yearly plan broken down into three-month increments." You should be able to see significant, quantifiable progress at the end of each quarter. If not, move on.
"Do you ever work with Icelandic personalities?" Varel asks, pointing to the alternative rock band Sugarcubes and to actress Anita Briem, until recently on Showtime's The Tudors, whose success has spread beyond their homeland.
Sigurd replies that because those celebrities are friends, she feels awkward asking them to promote her products. Varel reminds Sigurd that the deal would be mutually beneficial: Outfit Briem for her next six public appearances and the actress will have six beautiful new ensembles. Steinunn, meanwhile, gets great publicity. Varel also suggests that Sigurd open a Los Angeles showroom, increasing her U.S. visibility while reaching an entirely different cast of people, including VIPs' personal stylists.
Getting into stores
Alissa Emerson, co-owner of New York boutique Edit, is up next with advice on securing good retail placement. Emerson, 38, has 20 years' experience as a buyer, and her Upper East Side shop sells about 70 brands, from up-and-comers like Martin Grant to mainstays like Michael Kors. She says she receives 20 to 40 solicitations daily from labels looking to sell in her store.
Emerson admits that new or lesser-known designers pose risks, even for well-established boutiques. "Customers must be educated to understand the value of what they're paying for, or else they won't go for it," she says. Media attention can help, as can celebrity fans.
But a designer can also increase credibility on her own, without spending a ton of cash. She urges Sigurd to begin holding one-day trunk shows and clinics at the stores that carry her line. Many of the designers that Edit stocks do this to educate salespeople about their brands and the best way to sell them. Better sales, of course, will encourage a store owner to buy more pieces next season. Trunk shows will also help familiarize Sigurd with her individual markets and enable her to choose fabrics and cuts that will appeal to customers outside Iceland. Emerson's patrons, for example, shy away from heavy fabrics. But in chilly Reykjavík, Sigurd's clients embrace them.
Sigurd has avoided apparel industry trade shows, which are expensive and time-consuming, but Emerson encourages her to reconsider. "Even though they're exhausting, after a few seasons people start to recognize and trust you," she says. Emerson regularly attends shows in New York, Paris and Milan, and adds that a majority of buyers from the better American stores do as well.
Emerson advises Sigurd to narrow her design focus -- at least until she's more established. "Most multibrand stores will buy for one specific demographic, so it might be worth considering a capsule collection: just knitwear, just dresses or just for stores in the American Northeast," she says. A collection in lighter fabrics, for example, would allow Sigurd to maintain her aesthetic while appealing to women in warmer climates.
Buck the slump: Expand
Ketty Maisonrouge, a professor of marketing at Columbia University and a communications consultant for luxury companies planning U.S. expansion, including Hermès and Lalique, suggests that Sigurd could most effectively weather the recession by expanding her own stores.
"A luxury brand is all about building consumer trust," says Maisonrouge, 53. "During this recession, that trust is being questioned." By opening new branches mostly through her own boutiques, Sigurd's brand might not grow as fast as if she were to seek placement in big department stores, says Maisonrouge, but she will be better able to control her image.
But Sigurd is worried about money -- and time. As the head of a four-person company, she does everything from design garments to ship packages. "The bottom line is that in order to expand you need a CEO," Maisonrouge says, "and for that you need more capital."
She encourages Sigurd to seek out investors immediately. Despite the economic climate, "there will always be investors for designers with proven talent who simply lack the capital to get to the next step," Maisonrouge says.
Sigurd admits that she feels the management void but has been reluctant to cede control. "As a designer, doing everything yourself is impossible," she says. "But emotionally it can be easier."
In the meantime Maisonrouge advises Sigurd to try retail expansion by establishing pop-up stores: short-term boutiques in vacant retail spaces (which have grown more common during the recession). "A pop-up requires a relatively small investment and can teach you a lot about your target markets," Maisonrouge says.
She adds that Sigurd could approach other Icelandic artists, chefs or furnituremakers who might want to showcase their offerings alongside Steinunn's. "You could create a lifestyle around the brands while also giving the media a reason to talk about you," she says.
Last, Maisonrouge wants to discuss the Steinunn Web site. "It doesn't say enough about you as a person," she says. "Let people know who you are and what your passions are. And most important, provide a list of stores where they can buy your clothing."
Maisonrouge advises doing this sooner rather than later. "In the U.S., e-commerce is gaining market share, even in the recession," she says. "It's not too risky or expensive. You only need a good Web designer and enough items to sell."
A few weeks later Sigurd is tackling many of the experts' suggestions. She has met with a few graphic designers about revamping her site and has spoken with Manhattan real estate agents about possible pop-up locations for the fall.
"I'm hopeful," she says. "Before the Makeover I had no idea whether to expand the business or keep it small and intimate. I think I'm ready to take it to a grander level, and for the first time I understand the components needed to do that."
FSB will follow Sigurd's saga and tell you how she fares.

Could your business use a makeover? In general, successful Makeover candidates are profitable small companies with at least $1 million in annual gross revenues. To submit your firm for consideration,
e-mail the FSB makeover editor here
. Please describe your business briefly, provide your most recent and projected revenues, and explain why you think your company would benefit from a Makeover.