Getting by with a skeleton staff
Small business staffs are still shrinking, a trend likely to continue even as the economy starts to thaw.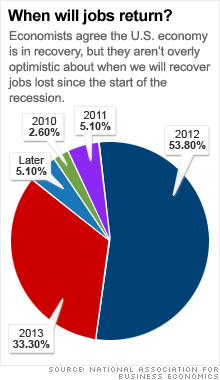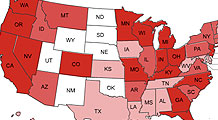 The duration of unemployment insurance varies by state. Here's how many weeks are available where you live.
More
jobs by

Find a Job
NEW YORK (CNNMoney.com) -- Small business owners are still whittling away at their payroll, but the deluge of pink slips on Main Street is slowing down.
Businesses with fewer than 50 employees cut another 75,000 workers in October, according to estimates released Wednesday from payroll processor ADP. October's job losses marked the smallest number of job cuts in a single month since July 2008.
But don't expect hiring any time soon. "Losses are likely to continue for at least a few more months, but at a diminishing rate," Joel Prakken, chairman of ADP (ADP, Fortune 500) research partner Macroeconomic Advisers, said in a written report.
A telephone survey of 830 small business owners conducted by management consulting firm George S. May International from Oct. 28-30 found that 74% of the owners polled do not plan to increase their staff headcount in the next 90 days.
"The term 'help wanted' has become obsolete," Paul Rauseo, managing director of the George S. May International Company, said in a statement accompanying the survey's release. "Small business owners feel they do not have the need for more employees and, in fact, see sizable portions of their staff as an unnecessary expense."
Small companies have been hit especially hard by a recession double whammy: Consumers and businesses have pared back their spending, while banks have tightened their lending standards. After three years of growth, sales at small companies -- those with annual revenue of less than $10 million -- have declined by nearly 4% this year, according to a recent analysis by Sageworks, which tracks financial data at privately held companies.
That's leaving business owners with little choice but to cut back. President Obama acknowledged the problem in a speech last week about his administration's economic recovery initiatives. "We know how tough times have been for small businesses," he said. "Maybe you've had to forgo raises. Maybe you've had to do the unthinkable and lay off friends or family."
Doing more with less
Nearly two years of recession have left businesses stripped to the bone. ADP estimates that 2.6 million jobs at small companies have disappeared since early 2008.
"They are trying to function with the minimal number of employees," said Elizabeth Klimback, executive director of the North Texas Small Business Development Center, which counsels local entrepreneurs in Dallas. "You have fewer people doing more work, and it puts a strain on the small business."
That challenge is forcing owners to come up with new approaches to filling the gaps. For Jennifer Hason, owner of Beach Lake Bread in Honesdale, Pa., free labor from participants in a job training program has helped her bakery keep payroll costs down.
Beach Lake traditionally sold to convenience stores, coffee shops and high-end restaurants. But last fall, sales started plunging. "We saw drastic pullbacks," Hason said. "The coffee shops, instead of taking our muffins, started baking their own muffins."
Hason revamped her business model to include prepared foods like soups and bread spreads. That helped her company increase sales to its remaining clients, but it also increased the bakery's workload. Hason knew she couldn't keep up without extra hands in the kitchen: "That was when we started taking on Job Corps kids."
Job Corps is a federally funded program for students age 16 to 24 years old that teaches life and vocational skills. Participants work in area businesses, picking up trade skills and training on how to hold down a job. The target population for Hason's local Job Corps center is inner city youth from New York City, especially Brooklyn and the Bronx.
One of Hason's first Job Corps students stepped in to help with the new prepared food production. "She trained up in that under her schooling, so that when we finally hired her, she was fully functional and was able to run that division," Hason said.
Job Corps students work on location for six weeks unpaid, but if there is the possibility of a full-time job coming out of the training, they can stay on longer. Hason took on her first two students in May, who worked in the bakery from 9 am to 3:30 pm each day. Both developed into excellent workers, and Hason has hired them on as full-time employees, taking her staff up to 14 employees.
"They are getting ready to send me a new crop of hands for training," Hason said. "It is my absolute dream. I get to teach and I get to have assistance -- essentially financial assistance -- from this program. It is unbelievable."
Klimback, of the Dallas small business development center, said she's hearing more stories of business owners finding innovative ways to adapt to their staff shrinkage. After a fairly grim year, she's sensing a changing attitude among the business owners her center serves.
"The optimism is there," she said.

To write a note to the editor about this article,
click here
.