A cooler ice cooler
A lunch drenched by melted ice prompted entrepreneur Paul Lavallee to rethink the ice cooler.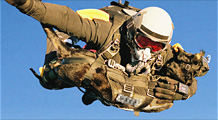 Wireless electricity. Invisible speakers. A mind-reading headset. See what's coming in 2010.
(Fortune Small Business) -- Many experienced campers have had food ruined by melted ice in a cooler. Most get over it. But when it happened to Canadian robotics lab technician Paul Lavallee on a trip to Alberta's Red Deer River, he vowed to make a better kind of cooler.
It would use a moat of ice water, hemmed in by plastic walls, to keep contents cold and dry. Different modules would fit snugly around common items such as a six-pack. You would grab whichever modules you needed from the fridge, hook them together and go. Better yet, you could drink the ice as it melts. Wash, fill, cool and repeat.
Like many cool ideas, this one sat in a desk drawer for years. Then, in 2005, Lavallee attended an entrepreneurial workshop, did some market research and founded P3 Innovations. With $200,000 in funding from friends and family, the company created 30 testing prototypes of the Ice³ cooler in 18 months.
"This could not be a simple blow-molded item, like a dog bowl," says Lavallee, 45. "I needed to invest in a serious design process to get the thing to work the way I wanted."
Carrying a mere 28 units from his first production run of 100 modules, the Calgary-based entrepreneur headed south to the 2009 Outdoor Retailer Trade Show in Salt Lake City. The Ice³ was an instant hit.
"The moment I saw it, I knew I had to carry it," says Tamara Kenyon, retail manager for Cascade Outfitters, a Boise, Idaho, catalog company that sells cutting-edge camping equipment. She ordered a dozen on the spot and will feature P3's modules in Cascade's 2010 catalog. P3 Innovations now has an inventory of 5,000 units, as well as an order from megaretailer L.L. Bean.
Lavallee isn't out of the woods yet. To scale up its production equipment, P3 needs to raise an additional $150,000. And some outdoor experts say the Ice³ is less likely to appeal to weekend campers, who make up the fastest-growing segment of the market and tend to own coolers already.
But Lavallee is confident that enough ice-soaked lunches will turn doubters into customers.

To write a note to the editor about this article,
click here
.