How The Wiggles became an empire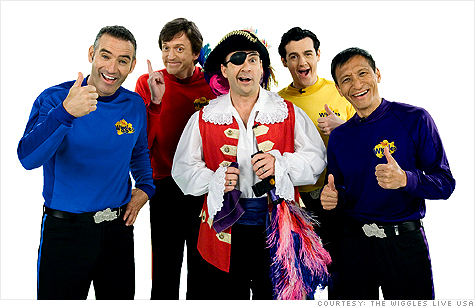 (CNNMoney.com) -- Throw two former preschool teachers, a rock band keyboardist and a singer together and you get the world's most famous pop band for the toddler set: The Wiggles.
Now in their 18th year, the Australian band has become a global powerhouse in children's entertainment, earning $45 million annually from live concert tours, albums, TV shows, merchandise and licensing agreements. The bandmates -- Anthony Field, Murray Cook, Jeff Fatt and Sam Moran -- talked with CNNMoney.com about how they created a kid-friendly empire.
How did you guys meet?
Anthony Field: I started studying early childhood teaching, then gave up university for two years because the rock band I was in [The Cockroaches] was going well. I went back to school in the late '80s and met Murray, who'd played in some bands. Greg [Page, who has since left the band] was a roadie with The Cockroaches. I've known Jeff, who also played with The Cockroaches, since 1979.
What were the early years like?
Murray Cook: The first album was Anthony's idea. We sold 100,000 copies in 1991, so it was quite a success.
It cost us about $3,000 to $4,000 to record it, then the ABC [Australian Broadcast Corporation] printed and distributed it. We got the connection to ABC through Jeff and Anthony's previous manager at The Cockroaches. Jeff and Anthony were well known in Australia at the time, and their previous manager took it to ABC for us.
The Wiggles name came from a song that Anthony had written. It's kind of the way children dance -- they wiggle around. We had no thought of it becoming a career or a business. When the album went gold, we thought it was cool, but still didn't think this would turn into a business. We were teaching at preschools, and just loved music.
In 1993, we thought, "Let's leave our jobs for a year and see if we can do this."
Anthony Field: Since Murray and I were teaching, we had rare holidays. Finding time to get together was challenging. Our first shows were small preschool events and parties. Murray's wife Meg made the first Dorothy costume, and it took us a year to repay her for the favor. Paying for the PA system took a couple of years.
Jeff Fatt: At our first shopping center show, I was traumatized. The others had early childhood education training and were used to being in front of children. The language of preschool was second nature to them, and it took me 12 months to learn it. Things like when you address children, you say "everybody," not "boys and girls," so that it's inclusive.
We started doing regional tours, then shows for playgroup associations -- 300 to 400 people a show. A real word-of-mouth thing made us well known. But if you didn't have children, you wouldn't know The Wiggles existed.
Did you have a business strategy in the beginning?
Murray Cook: The model for nearly everything we do is self-financed. We own everything and create it ourselves.
We wanted to keep financial and creative control. The Cockroaches' record label had taken some control over their work, and we wanted to avoid that type situation. With our background, we know what's good for children and what's best for The Wiggles. No one else had done what we were doing.
Also, in the beginning, people didn't want to invest in us. I remember we approached an agent who was handling solo acts, and she said with four people, we'd never make any money. It wasn't until we were successful that people saw it was possible to do what we do.
Jeff Fatt: I did the bookkeeping for the first five to six years on an old computer, and did the banking and merchandising. Merchandising used to be a suitcase of music cassettes, Dorothy the Dinosaur hat and tails, and t-shirts set up on the back of a trailer. It was really a cottage industry.
Murray Cook: Around 1996-1997, we financed the first TV show with money we'd saved from touring and making videos. We did 13 episodes, funded it ourselves, and Channel 7 in Australia bought it. It was well received, then ABC came to us and the show moved to them.
Jeff Fatt: After we sold the show to ABC, we managed to sell it to Disney in Australia.
And that brought you to the United States?
Jeff Fatt: Yes. We were invited to perform in Disneyland. Our videos were distributed by HIT, which did Barney and Bob the Builder. Initially, we did a bit of a tour with Barney and appeared as the support band for 10 minutes in the intermission. We'd make little appearances in Blockbuster parking lots. There would be a half dozen people -- two were our publicists, two were crew...
Murray Cook: When we started touring the United States, it was right after 9/11. There was a lot of discussion about whether we should even come. A lot of Australian sporting teams had canceled their games, and the press said we were braver than the teams for coming to America.
What's been your greatest challenge?
Anthony Field: Greg was such an exceptional talent and so well-loved. We didn't want to stop when he got sick [with orthostatic intolerance], so the challenge was to adjust to a new person, and for us to demonstrate we still had something creatively to give to children. Sam was Greg's understudy and was a natural.
Sam Moran: It was an honor to take his place in 2006. There was a little bit of trepidation for me about how the audience would respond. We filmed a video of Greg handing the yellow skivvy to me. Most children understood.
How have you built upon your brand?
Sam Moran: We're on TV in countries where the speaking part is dubbed, and the songs are performed in English. In Latin America, there's a Spanish-speaking Wiggles group that's franchised, and in Taiwan, there's a Mandarin-speaking group.
Murray Cook: We wanted to reach out to children in non-English speaking countries, so we started in Taiwan, thinking it was a small enough place, in case it didn't work out. The Taiwan group did okay, so we cast Spanish-speaking people from Australia to go into Latin America.
It was successful, but it took a lot of time to work with the groups and maintain quality control. We were doing all that ourselves. We found as we sold our TV show internationally that people liked dubbing in their language, but they wanted our songs to be sung in English, so that the children would learn English. So we haven't pursued franchising any more Wiggles groups.
Jeff Fatt: Dream World theme park in Australia approached us about having a section inside their park. Then we signed on to do the "Wiggles Worlds" [inside three Six Flags Amusement Parks] in North America.
I don't see us over-extending the brand. It's more a matter of getting into licensed products that are in keeping with what The Wiggles are all about, like eating healthy foods. We endorse yogurts and fruit juices in Australia. We stay with the preschool, family market. We really haven't made any deals that have gone bad.
Murray Cook: Our staff knows what we expect when it comes to merchandising and licensing The Wiggles image. They'd know never to put our image on a toy gun.
We just ended our run on Playhouse Disney and have started a new show on PBS Kids Sprout. It was a mutual decision to part ways with Disney (DIS, Fortune 500). They're a bit more interested in the older Hannah Montana and High School Musical audience. When they first took us on, they didn't have as much of their own content. Now, they're less interested in outside content. We felt it was time to try somewhere else, and to freshen up our brand a bit.
We owe a lot of our early success to Disney, and are still on the Disney Channel in Australia, so it wasn't an acrimonious thing. It was just business.
What have you learned along the way?
Jeff Fatt: In the early years, there was a failure to anticipate the size of the operation and future growth. We should have looked at ourselves as a business, and not just as artists. We were just so wrapped up in the creative end.
We had problems with early contracts with our licensees. The return from the licensees was barely covering the cost of the legal work to negotiate the contracts. We were also slow on registering our trademarks for the group and our characters. We had an early trademark dispute with a publishing company in Australia that had a CD-ROM that had "Wiggles" in the title. We ended up with a co-existence agreement so that the two companies could own the same trademark at the same time, even though we're separate entities and the name wasn't totally the same.
Murray Cook: We also had a music publishing deal that we realized we didn't need. Publishers collect the royalties from your songwriting in various countries. We've had songs used in movies and TV shows, so we now have our own music publisher. If there are requests to use our songs in movies, we negotiate and collect our own royalties.
Do you have a business manager?
Murray Cook: The Cockroaches' manager was our first manager. He moved on in the mid-1990s, and Anthony's brother Paul became our manager. We wanted to keep the creative and business control, to keep everything child-centered. We know what The Wiggles really is and what it's about, so we prefer to run things ourselves. As the business grew, it became too difficult for Paul to manage alone.
Anthony Field: Greg brought his friend Mike Conway, who worked for Ernst & Young in England, to a meeting one day. We didn't have a clue what to do to keep us going, or to plan for the future. Mike's guided us in the last few years as our business manager.
Jeff Fatt: It was really blind luck. We trusted Mike because he was Greg's friend and because he had the business background and perspective that we didn't. Everything he's done has been fantastic.
Murray Cook: Now, The Wiggles Board of Directors includes the three original Wiggles, Paul and Mike. We set the direction for the group and plan for the future.
What does the future look like?
Murray Cook: We have long-term and short-term plans, but things are always changing. We map out a year or two in advance. We love touring, but as we get older, we know we can't keep doing it at this level. So we're looking at producing other TV shows.
Anthony Field: Mike's encouraged me to create other brands. We've got The Dorothy the Dinosaur Show in countries where The Wiggles don't appear. Baby Antonio Circus is a three-minute show with my boy as the ringmaster and little kids performing circus tricks. We're going to send it to pre-school TV stations around the world.
Murray Cook: We have a license to be silly, and a lot of what we do is about joy.
Anthony Field: One day, these will be the old days. I loved when we were starting. We didn't know what we were doing, but I look at all the music we did, and I'm very proud that what we set out to do for children worked.