142 years old and still hot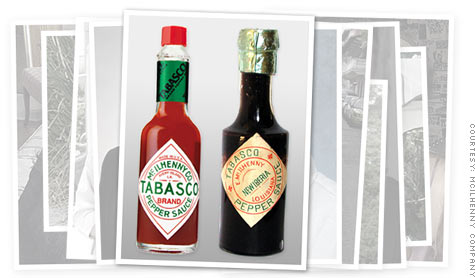 AVERY ISLAND, La. (CNNMoney.com) -- Dozens of entrepreneurial hot sauce bottles line up on a typical grocery store shelf, but only two or three boast significant market share. Tops among them is Tabasco, which has been made by the McIlhenny Company out of Avery Island, La., since 1868. The company, still family-run and privately held, won't disclose its financials, but analysts estimate that the iconic brand -- which supplies countless bars, first-class airline cabins and the U.S. military with bottles of its red sauce -- owns about 20%-25% of the market.
McIlhenny, which grows its peppers all over the western hemisphere, sells six flavors of Tabasco, but none come close the numbers of its bestseller, the original red. International business comprises 40% of the company's overall sales. Up next: Expansion into emerging markets like Brazil, China, and Eastern Europe.
After a recent factory tour on Avery Island, CNNMoney.com sat down with Paul McIlhenny, the fourth-generation president and CEO, who shared his company's startup story.
How did the McIlhennys get into the pepper business?
My great-grandfather was Edmund "E" McIlhenny. He died in 1890, but we still call him Grand-Père. He had been a banker in New Orleans. He was doing well, but the banking industry became defunct during the Civil War.
That's when he started selling the pepper sauce he made for family and friends. He was truly an entrepreneur in terms of the sauce -- it was a totally new profession for him.
How did the operation grow?
The first sales happened in New Orleans, to restaurants and men's clubs. Then, E. C. Hazard, a large wholesale grocer in New York City, started distributing the sauce. Sample bottles were sent out in 1868 and orders came in immediately, mostly from seaport towns -- New York, Philadelphia, Savannah, Mobile -- because the sauce was used primarily as a condiment for seafood and oysters.
By the mid 1870s the sauce was being sold in grocery stores through food brokers in the U.S. and England. There was no commercially available hot pepper sauce at that time. In the first 22 years of business, we produced 350,000 bottles of Tabasco. Now we do twice that a day, four or five days a week.
When did you decide to go into the family business?
I was attending the University of the South in Sewanee, Tenn., majoring in political science, thinking I'd go to law school to get involved in admiralty law -- my father worked in maritime insurance. I was in my senior year when Walter, my father's first cousin and then company president, called. He offered a job and I accepted. I was 22 and married, so I welcomed employment, particularly in a family company.
I started on Avery Island out in the field in the summer of 1967 doing what we call "working in khakis" -- which means I was in the field gathering and checking the quality of the peppers, weighing, sorting, processing, and loading them into rail cars. That ain't fun to do in the heat of September!
I did that for about two and a half months, visiting daily with Walter, who would go over company history with me. I knew the history thanks to my father, who was a shareholder and board member. He and my uncles were pleased to have me represent their side of the family.
After those two months, Walter sent me to work with the company's oldest food broker in Los Angeles. He wanted me to have some experience in the consumer packaged goods field, and I learned to sell in a very competitive marketplace -- Southern California -- selling other products as well as Tabasco. I did store checks and shelf checks, then I sold products directly to buyers, then restaurants. I got to see a good bit of the food brokerage business from several different angles, which taught me a good bit about consumer goods and condiments in particular.
I returned to Avery Island and worked in advertising, marketing, production, purchasing, manufacturing -- I did many things. We're a small company; we all get involved with everything from agriculture to trademark.
Was Walter grooming you to take over?
At that age you're just glad to have a job. Theoretically I could have been in line. I had a cousin in between who was a V.P. I didn't come in as an officer. I came in as management. I had a notion that I might take over, but it wasn't anything assured.
When did you start growing peppers away from Avery Island?
We started growing peppers in Mexico in the '60s, and Venezuela in the '60s and '70s. Today there are 20 acres in Avery Island growing seed crop and about 6,500 acres in Central and South America and South Africa. We have contracts with local growers who farm and plant, but we supervise the pesticides and herbicides.
Is there ever a problem with different flavors in the peppers, because of different soil and weather?
We don't detect any flavor differences from country to country because it's the same type of pepper.
What are some of the challenges the company faces today that didn't exist in 1868?
Look at the laws regarding wages, labor relations, 401(k)s, health care. It's all highly regulated now. There was no HR in 1868. It's much more complicated than it was in every area of administration -- the legal requirements of shipping, different laws for each state, tax laws, different laws for every country, the fluctuation of the dollar.
In those days it was a homemade industry. We've grown in size, volume, distribution. Now it's a global economy and we're a global company. We sell directly to 165 countries and we print labels in more than 20 languages.
E. used cologne bottles in the beginning. Since 1927 we've has the same trade dress -- the diamond-shaped white paper label, the green neck, the two ounce bottle. It's like the Coke name and bottle; you know it when you see it.
Has the company's most popular product changed throughout the years?
Our original red sauce is far and away the main product. We're fully automated now but the formula is still the same: peppers, salt, vinegar. Mash [crushed peppers and salt] comes from our various farms and finishes aging on Avery Island.
Do you still soak the peppers in bourbon barrels?
Yes. We buy secondhand white oak bourbon barrels from Kentucky. They last 50 to 60 years. When a barrel finally splits or can no longer be used, we turn it into wood chips.
Which you can buy at the company store ...
Yes, and a bit of advice: When barbequing, don't get upwind -- there's pepper in the wood.