GM offers 661 dealers a second chance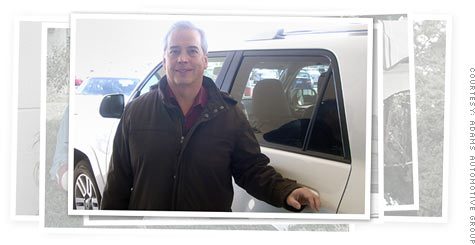 NEW YORK (CNNMoney.com) -- Shuttered General Motors dealers hoping to get their business back should stay near the phone. General Motors is in the process of calling 661 dealers targeted for shutdown to offer them their franchises back, company executives said Friday afternoon.
That represents more than half of the dealers who lodged an arbitration appeal last month to fight their planned termination.
In May, as the Detroit giant worked its way through bankruptcy, GM notified 2,000 dealers that they would lose their franchise license in October 2010. But Congress demanded that the company give dealers an appeal process, and 1,100 of those targeted for shutdown met last month's deadline to file for arbitration in an attempt to regain their license.
The arbitration hearings will take place over the next three months, but GM's initial review of the applications convinced it to go ahead and offer more than 600 dealers their franchise back, the company said. Those affected have been sent a "letter of intent" and will be allowed to resume normal operations if they comply with the letter's terms.
"We are eager to restore relationships with our dealers and get back to doing what we do best -- selling cars and taking care of customers," Mark Reuss, president of GM North America, said in a prepared statement. "The arbitration process creates uncertainty in the market. We believe issuing these letters of intent is good for our customers, our dealers and GM."
General Motors, which currently has 5,500 dealers, held a conference call Friday to notify dealers of the company's plan. GM representatives are now calling the 661 dealerships being offered a second chance, and hope to make contact with all of them by close of business Monday.
"We're eager to work with Mark Reuss and his team as they focus on restoring stronger ties with their dealers," Ed Tonkin, chairman of the National Automobile Dealers Association, said in a statement. "We appreciate the good faith effort that GM is showing and hope that this carries forward in its continuing settlement and arbitration discussions with the remaining wind-down dealers."
NADA represents about 17,000 new-car and truck dealers.
Hoping for good news: Scott Adams is waiting anxiously to hear about the fate of his dealership, Ray Adams Chevrolet in Belton, Mo., a suburb of Kansas City. He says he's cautiously optimistic, since more than 50% GM's appealing dealers will be reinistated.
"You know, just do the math," Adams said.
If he does get a green light, Adams expects GM's requirements to be tougher than those he previously faced. Whether or not he'll take the offer depends on the terms. Adams hasn't gotten any new GM cars since July. He's now staying afloat selling used cars and doing repairs.
"I think it is going to take some hard math," said Adams. "We were never told what we did to be terminated."
Documents will start going out to dealers next week, company executives said. Dealers have 10 days to review the letter from GM, sign it, and return it to the manufacturer. Then, they will have 60 days to comply with the letter's terms.
GM would prefer to avoid the arbitration process entirely.
"I would like to have no arbitration, but if someone feels we still need to do that, we can do that," said Reuss on a conference call with reporters. "The preference here is to be able to sit down with every dealer and work out an answer."
Settling several hundred cases saves GM the time and expense of battling them out. "It was going to be virtually impossible to take all 1,100 cases and arbitrate in a 120-day period," said Susan Docherty, GM's vice president of marketing for GM.
When General Motors and Chrysler filed for bankruptcy last year, they took the opportunity to significantly thin their dealer ranks. In total, the two companies sent shutdown notices to nearly 3,000 dealers -- but many of the shuttered dealers have been fighting back.
GM notified terminated dealers in May that their franchise would be closed in October 2010. But Chrysler gave its dealers just 30 days to cease operations, putting them out of business in June. Around 400 of the 789 terminated Chrysler dealers have filed for arbitration.
A Chrysler representative was not immediately available for comment on Chrysler's plans for the appeal process.
The shut-down process has been damaging and fraught for both dealers and the automakers. Even though GM is now reversing its stand on more than a quarter of those it tried to terminate, the company says the fight was worth it. By midsummer, GM hopes to have a final tally of its remaining franchises.
"The headline will be that our dealer footprint will be smaller than when we went into bankruptcy," said GM's Docherty.