Cult soda maker Jones agrees to sharply discounted takeover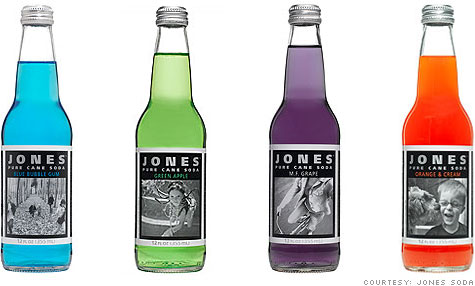 NEW YORK (CNNMoney.com) -- Jones Soda, the struggling maker of cult-favorite soft drinks, has agreed to be acquired by rival Reed's at a deep discount in a deal worth just shy of $10 million, the companies said Tuesday.
Jones shareholders will receive 4.5 million shares of Reed's common stock and cash of 10 cents a share, or about $2.6 million. That means natural soda maker Reed's valued Jones at 37 cents per share -- less than half its closing price on Monday. The deal, which is not yet binding, is worth about $9.8 million on those terms.
The rare "takeunder" arrangement highlights how close to the brink Seattle-based Jones (JSDA) has come. Profitable for most of its 22-year history, Jones drew a wide fan base to its premium sodas in offbeat flavors like bubblegum and mashed potato. But by 2007, the company was fighting the fallout of a failed expansion effort, compounded by a difficult economy and shrinking soda sales.
Jones reported a loss of $1.5 million in the quarter ended Sept. 30. It finished the quarter with $6 million in cash on hand, down from the $11.7 million it held nine months earlier.
Jones tried to reduce expenses over the past year but could not make its way back to profitability, chairman Rick Eiswirth said Tuesday in a prepared statement.
"Unfortunately, the challenging economic environment combined with our current capitalization has made it extremely difficult to operate on a standalone basis," Eiswirth said. "We believe the combination of Jones and Reed's will create a substantially larger beverage business with a more powerful operating platform and a brighter future."
A Jones representative did not respond to a request for further comment.
Reed's chief executive Chris Reed said his Los Angeles company "has a lot of respect for Jones -- and we generally don't have a ton of respect for other companies because we think what we do is the best in the world."
Jones' "extremely fun, playful, youth-oriented brand" was a major draw for Reed, he said.
Reed isn't planning big product changes. His company "doesn't mess too much" with acquired brands, he said, but it will "eventually try to clean up Jones to aim it toward a more natural-oriented customer."
Jones chief executive Joth Ricci handed in his resignation Monday and will leave his post on April 2. Meanwhile, Reed's and Jones have until April 5 to hammer out the final terms of their transaction, which shareholders of both companies must approve.
Jones' shares plunged on news of the deal, dropping 38% in midday trading on Tuesday, to 52 cents per share. Reed's shares rose 6%, to $1.67.
Jones' fall from grace was sharp and sudden. Just a few years ago, the future looked rosy, with a 2006 profit of $4.6 million on revenue of $39 million. But in 2007 founder Peter van Stolk tried to expand the brand beyond glass bottles into the canned-soda market, pitting it against beverage behemoths like Coca-Cola (KO, Fortune 500) and Pepsi (PEP, Fortune 500).
The company posted an $11.6 million loss that year and replaced van Stolk with former Coke exec Stephen Jones.
Stephen Jones targeted big chain grocery stores and expanded the canned drinks into new markets. But the economy was starting to falter, and soft drink sales were on the decline. The company was forced to slash nearly 40% of its workforce in October 2008.
In December, Texas-based Big Red Holdings approached Jones to discuss buying the company for 30 cents per share in cash, or $7.9 million, but the deal was not completed.