Frothy sales for craft beers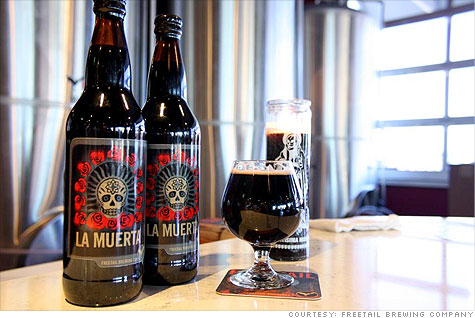 NEW YORK (CNNMoney.com) -- Turns out booze isn't recession-proof.
Beer sales dropped by 5 million barrels last year, but small brewers fared the best: Craft beer sales grew 7.2% by volume over 2008, according to an analysis released this week by the Brewers Association. The number of small breweries in the U.S. also rose past 1,500 -- the highest total since before Prohibition, according to the industry trade group.
Craft beer still accounts for less than 5% of the total U.S. beer market, while giants like giants Molson Coors (TAP, Fortune 500) and Anheuser-Busch InBev (BUD) command the lion's share. But the small guys are eking out gains in a shrinking market, boosting their retail sales by 10.3% last year to $7 billion even as overall beer sales decreased 2%, according to the Brewers Association's calculations
Those slight market-share shifts mean the world to to small brewers like Scott Metzger, the owner of Freetail Brewing Co. in San Antonio.
Metzger, who worked in the Texas oil business for years, founded Freetail in late 2008. Unlike craft-beer havens such as Oregon and Colorado, Texas tends to be a stronghold for the Bud, Millers and Coors of the world.
To lure drinkers away from the "mass-produced beer prison," as he calls it, Metzger took to Facebook and Twitter. He concocted rare, seasonal beers like "La Muerta" in honor of Dia De Los Muertos, a Mexican holiday celebrated in November.
Metzger's tactics worked. In the year since Freetail opened, the company generated revenue of $1.2 million, selling 610 barrels of beer. On the day of the La Muerta launch, around 40 people -- some from outside Texas -- lined up outside to wait for a taste.
So why would higher-priced craft beers gain ground against cheaper, mass-produced competitors in the middle of a recession?
"There was something different going on last year," said Paul Galtza, director of the Brewers Association. "People started altering their purchase habits."
While booze budgets dropped, buyers were willing to invest a bit more to buy handcrafted beers from independent brewers, he said.
"There's an overall trend in the U.S. for people to speak out for better quality stuff in general -- foods, wine, beer, clothes, produce -- and more local products," agreed Metzger. "That's typically what's embodied by the craft brewery."
If the economy stabilizes, Galtza said he expects the trend to continue. He thinks craft brewers could enjoy a 10% volume boost in 2010.

While beer giants posted lower sales in volume last year, the same trend didn't speak true for craft brewers -- the smallest and highest priced segment of the beer industry.