Jones Soda: Is a bidding war brewing?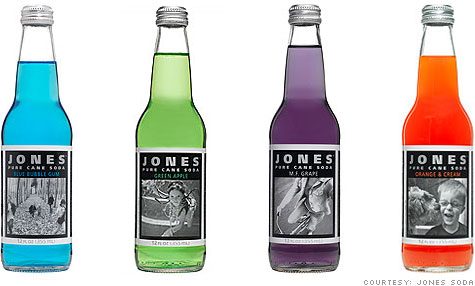 NEW YORK (CNNMoney.com) -- Two weeks after it agreed to be acquired by rival Reed's, Jones Soda may be snapped up by another buyer instead.
The company said late Monday that it has terminated its exclusivity provisions with Reed to explore an unsolicited proposal sent by a second suitor. The third party was not named, and Jones (JSDA) did not immediately respond to a call for comment.
Jones announced plans on March 9 to be acquired by Reed's at a deep discount in a deal worth just shy of $10 million. Under the terms of that non-binding deal, Reed's valued Jones at 37 cents per share -- less than half its closing price the previous day.
On Monday, Jones said it "continues to be interested" in a deal with L.A.-based Reed's (REED) but that its board also plans to explore other options, including the surprise third-party bid. The Seattle company will reimburse Reed's for its out-of-pocket expenses so far, up to $75,000.
The clock is ticking for Jones to strike a deal. The company is quickly burning through its available cash and has been publicly struggling. Also on Monday, Jones received a delisting warning from Nasdaq for falling short of the exchange's $1 per share minimum price requirement. Jones is appealing the decision and will continue trading as pursues its case.
Jones had been profitable for most of its 22-year history, building a base of fans drawn to its premium sodas in unusual flavors like bubblegum and mashed potato. But by 2007, the company was suffering from a failed expansion effort, compounded by the recession and falling soda sales.
Jones hasn't signed a letter of intent with the unnamed third party, and "there can be no assurance" that a deal will be finalized, the company said Monday.
Other soda makers have previously eyed Jones for acquisition. In December, Texas-based Big Red Holdings approached Jones to discuss buying the company for 30 cents per share in cash, or $7.9 million, but the deal was not completed.