Trench warfare in the franchise field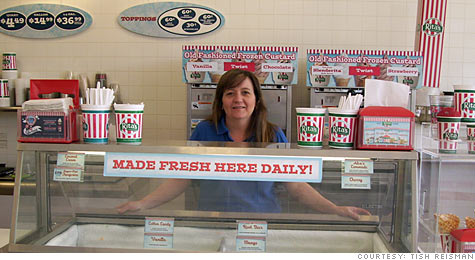 (CNNMoney.com) -- Even in good times, the relationship between franchisors and their franchisees tends to be fraught. Toss in an economic downturn and things get downright nasty. Iconic brands are facing revolts in the trenches from owners fed up with their corporate parent.
Later this month, a Los Angeles jury trial will begin on a seven-years-old and still festering fight between UPS (UPS, Fortune 500) and a group of disgruntled franchisees of Mailboxes Etc., which UPS acquired in 2001. Quiznos recently settled a class-action lawsuit with its franchisees, while Burger King remains mired in a court battle with store owners over a $1 promotion for double cheeseburgers that cost more than a buck to produce.
Garth Snider, president of FranchiseOpportunities.com, a site that advertises franchises for sale, says the level of complaints by franchisees and franchisors alike "is commensurate with the hard economic times we're experiencing. This wasn't an issue three or four years ago, when there was plenty of money to go around, because franchisors weren't looking to be as aggressive with their pricing."
When margins are razor-thin and sales slip, disputes are more likely to blow up into major skirmishes. The Quiznos fight featured complaints that Quiznos forced franchisees to buy food and supplies at inflated prices while setting retail prices so low that store owners couldn't make a profit. Discounts -- like those Burger King offered on its double cheeseburgers -- are another flashpoint. T.G.I. Friday's had a small war with its franchisees last year over a two-month promotion that slashed sandwich prices to a money-losing $5 each.
"It's the divergence between generating volume by forcing your franchisees to charge lower prices and the net effect of that on the actual business owner, who still has to pay the same royalty and the same price for goods," says Justin Klein, a partner in Marks & Klein in Red Bank, N.J., and lead attorney for the Quiznos plaintiffs. "Essentially, it still costs you $5 to make the sandwich but you're forced to sell it at $3.95."
The pressures come on all sides. One of Klein's current franchisee clients is being forced by its parent company to extend operating hours -- even if those extra hours aren't profitable. "Forcing them to stay open longer means they have more employees there," he says.
Life in the trenches
Tish Reisman, owner of a Rita's Italian ice outpost in Tampa, Fla., is facing many of the typical franchisee frustrations. She signed with the Trevose, Pa.-based parent company in June 2007, paying $65,000 for a two-store agreement. Reisman grew up in Philadelphia and had a fondness for Rita's. She believed that in Florida "Italian ice would be a no-brainer."
The first store opened in March 2008. The problems began just six months later.
A competing Rita's opened five miles away. A corporate marketing campaign required her to stand in front of Wal-Mart and Kmart stores handing out coupons, sucking up time and resources she couldn't spare. Rita's requires her to sell every new flavor it introduces for 24 days -- even if it tanks.
"In November, I had to sell caramel apple, which I was throwing away every two days," she recalls. Rita's projected waste from introducing new flavors is 7% and Reisman was given credit for that, but her actual waste was closer to 22%. "It would have been better if I could have decided what flavors would sell, rather than being forced to sell all of them."
Reisman lost $86,000 the first year she was in business and hasn't been able to afford to open her planned second store. She's sunk more $300,000 into the franchise. A single mother with four children, Reisman is worried about bankruptcy.
Jim Rudolph, CEO of Rita's, says the coupon program and new flavor introductions have been successful for other franchisees. The company has been working with Reisman, he says, getting her rent reduced, offering incentives to potential buyers of her franchise, and negotiating with banks on her behalf.
"I feel terrible for her, but we also cannot be responsible for the unfortunate situation she's gotten herself into," he says.
That's the common line franchisors take when store owners run into trouble: You're on your own.
Industry veteran says they've seen a few concessions to the economic downturn. "We're seeing franchisors responding by temporarily deferring royalty payments," says David Kaufmann, a franchise attorney and partner with Kaufmann Gildin Robbins & Oppenheim in Manhattan. "Some have escalated corporate contributions to marketing programs, some are letting franchisees that promised to open new units now push that further into the future."
But Quiznos attorney Klein expects that even when the economy recovers, franchisees and franchisors will continue warring over the financial terms of their arrangement.
"I don't think things like value meals and other low-priced promotions are going to stop," he says. "They are very popular with consumers."