Building tech companies in the land of dialup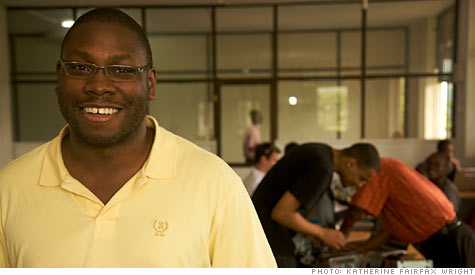 KAMPALA, Uganda -- Losing Internet access is a Web geek's worst nightmare. So when 19-year-old Felix Kitaka ran out of money to pay for the pricey dialup connection at his Kampala home last year, the young software developer was distraught. Without Web access he wasn't going to be able to finish the Facebook application he was working on -- and even if he were able to raise the money to pay his overdue bills, he wouldn't be reconnected for weeks.
So Kitaka contacted Jon Gosier, an American who had just launched Appfrica Labs, a technology incubator in Kampala. After a brief meeting, Gosier invited Kitaka to work on his Facebook application at Appfrica's offices. Starting immediately.
"It was kind of hard to believe," Kitaka says today. "I don't get many opportunities in life. I count that as one of them."
Founded in 2008, Appfrica Labs is a unique space in Kampala, offering jobs and startup support to young Ugandan developers with bright ideas. The brainchild of Gosier, 28 -- an Atlanta native who had never set foot in an African country until he arrived in Uganda two years ago -- Appfrica is part incubator and software company, funding itself with revenue from client work.
Gosier's creation has already earned him a senior fellowship with TED, the nonprofit best known for its annual multidisciplinary conferences. But he's not alone in his efforts: Appfrica is part of a rapidly growing sub-Saharan tech community fueled by the near-ubiquity of cell phones and the ever-improving Internet access across the continent. Since December, three tech-focused coworking spaces have launched across the continent: Limbe Labs Ventures in Cameroon, Bantalabs in Senegal, and iHub in Kenya.
"There's a lot of energy right now," says Gosier, who also writes a popular blog on African tech. "There's been a fever pitch of people who want to start businesses, who have good ideas, who aren't afraid to get online and make themselves known."
Gosier, a former studio engineer at The Tyler Perry Company and software developer, is the first to admit that when he and his girlfriend decided to move to Uganda so that she could take a job with a local non-governmental organization, he had no idea what he was going to do when he got there. But after reading about the blossoming tech scene in East Africa, Gosier decided to gauge interest in an incubator by organizing a "BarCamp" -- tech jargon for an informal conference -- for local developers at Kampala's Makerere University.
"What I noticed was that there's tons of talent here, and not a whole lot of opportunity," Gosier says. Local universities churn out thousands of computer programmers each year, but there are few jobs on offer in Uganda that match those graduates' qualifications. Even fewer developers have the resources to work on their own ideas.
Using his own savings and a small investment from Beirut-based venture fund Kuv Capital, Gosier set up Appfrica, which today houses its eight employees in a sparse office above a supermarket in Kampala's Nakawa district.
In its first year of business, Appfrica generated $60,000 in revenue from paid work. Clients include UNICEF's RapidSMS project -- a bulk SMS messaging service for data collection and communication, for which Appfrica provides regional technical support -- as well as Ujima, a Web site for African investigative journalists that offers access to data on government activities, such as weapons sales and lobbying efforts. (Appfrica employees also worked last year on a project to translate Google's (GOOG, Fortune 500) Ugandan sites into Luganda, one of the country's vernaculars, but that gig was unpaid.)
Most of that revenue gets plowed right back into Appfrica's incubated projects -- not through direct investment, but by providing resources to help them get off the ground.
One of those startups is Status.ug, a mobile application developed by Kitaka soon after he realized that his original Facebook application idea wasn't as popular as he'd hoped. Currently in beta mode, Status.ug will allow users in Uganda to update their Facebook or Twitter status via an SMS sent to a local number -- an invaluable tool for the thousands of Facebook users in Uganda, very few of whom have an Internet connection at home. The project has already received a $10,000 investment from Mauritius-based Chembe Ventures, and Gosier hopes to develop the application into a more versatile mobile social network later this year.
Then there's Question Box, a nonprofit project Gosier has been working on since 2008. Founded by Santa Monica-based international development consultant Rose Shuman, Question Box runs local-language telephone hotlines to connect rural users to operators who can use online and offline databases to answer their questions. (Common queries range from "What disease is ravaging my banana plants?" to "How many goals did Manchester United score against Arsenal?")
Gosier recently managed a pilot project for Question Box in Uganda, following a two-year trial in India. Today, his team is developing the software that enables operators to access and index information offline -- a necessity in countries where Internet connections are often expensive and slow. Appfrica is also working on an open-source version, Open Question, to make the software's code available to anyone wishing to create and customize their own Question Box service. (Gosier says he's already received requests from as far afield as Russia and Latin America).
"Question Box takes a pragmatic approach to how people in the developing world deal with technology," says Erik Hersman, author of the popular tech and innovation blogs WhiteAfrican.com and Afrigadget.com, and cofounder of crisis-mapping nonprofit Ushahidi. "If I need an answer to a question, it's much easier to use my voice and have people doing the technical stuff on the backend. A lot of the success around Question Box is to do with it being more analog than digital."
Understanding how technology is used locally is key to developing a successful service, in Hersman's view: "Usually we see people come in from outside and they have some preconceived idea of what people in Africa need, and then apply it, not realizing that's not the normal use case for African social community users."
One example Hersman cites is a recent collaboration between Google and the Grameen Foundation, which launched a collection of SMS services, including a Craigslist-like mobile service, in Uganda in June. It's still early days, but Hersman says the trading service hasn't been as successful as expected.
"There's not a whole lot of things being bought and sold," he says. "If you don't create a service people can use, it doesn't matter who you are, it's not going to work."
There have been a handful of recent success stories. South Africa's innovative cell phone-based social network MXit boasts more than nine million users in the country, and other local mobile services have leapfrogged the U.S. "In Nairobi you can pay for your taxi with your mobile phone if you have an M-Pesa account," says Sean Murphy, CEO of Chembe Ventures. "You can't do that in Silicon Valley."
Despite the growing interest in African tech startups, fundraising hasn't been easy for Gosier. Aside from small amounts raised from two investment funds, Gosier has largely relied on the company's modest revenue to keep Appfrica going. That means progress on incubated projects has been slow, as employees spend the majority of their time on client work.
"In a perfect world we would do almost all startup work, but the reality is that we have to keep funding ourselves," says Gosier. "We make enough money to sustain ourselves, and that's all we need to make. As long as we don't go away, that's my only mission."