Rockin' the retirement home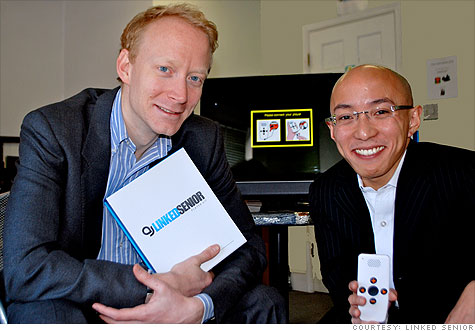 (CNNMoney.com) -- Remember what it was like to navigate an MP3 player for the very first time? Now imagine that challenge multiplied by the hurdles of old age: arthritic fingers, weak vision, the works.
In the age of so-called digital democracy, with technology leveling many playing fields, why should the elderly be left out?
Enter marketer Charles de Vilmorin and software developer Hervé Roussel. In 2007, they partnered to create Linked Senior, the first audio entertainment system for the elderly. The system is built around a touchscreen kiosk, which serves as a centralized downloading station and allows retirement home residents to plug in specialized MP3 players and choose from a library of 63,000 audiobooks, language lessons, music, news reports, games, and other programs.
"We wanted it to be as simple as possible, empowering people who need it the most, but still keep it hip looking," Roussel says. "Some of the seniors are afraid of technology, and some had never touched a computer."
The kiosk was designed to look like a television, rather than a PC, to make the device seem more familiar. The handheld MP3 player is modeled after the iPod, but it comes in a bright orange color with oversized buttons.
Linked Senior is based in Washington, D.C., and has signed contracts with 30 retirement communities in the Mid-Atlantic region since its July launch. One of the company's first "wired" nursing homes, Vinson Hall Retirement Community in McLean, Va., is already using 36 kiosks.
"People load up on the books," says Fred Johnson, the community's special events and programs manager. "In our dementia unit, we download music for music therapy, which is great. As we get new residents, we add three or four kiosks every month."
So far, two books -- The Kite Runner by Khaled Hosseini and Three Cups of Tea by Greg Mortenson and David Oliver Relin -- have been smash hits at Vinson Hall. Why? Both stories unfold in Afghanistan, and many of the community's residents -- including a few who retired from the C.I.A. -- have spent time there.
Retirement communities have also been using Linked Senior for group activities, plugging the MP3 player into speakers to facilitate language classes, Bible study and cooking lessons.
Linked Senior charges clients a per-bed fee to use the system. "For a 100-bed community, the charge could be between $400 and $1,000 a month, depending on the type of community and the level of services provided," De Vilmorin says. A setup fee of $2,000 includes hardware and training.
Roussel and De Vilmorin pooled $25,000 of their personal savings to bootstrap their startup. "We had enough to get us through the first phase of development, then asked family and friends to support us with a few hundred thousand dollars, which got us to where we are today," De Vilmorin says. "We anticipate breaking even this summer. Then will go looking for funding to continue developing the product and expanding our geographic reach."
Steve Gurney, publisher of the Guide to Retirement Living SourceBook, says Linked Senior has tapped a market that will grow as the population ages. But the company isn't alone in the field: Companies such as It's Never 2 Late and BigScreenLive have built entire computer systems for senior users, he notes.
Still, Gurney believes that Linked Senior, will carve out a strong niche with its specific focus on audio delivery through MP3 players.
"Generally an activities director has a limited budget to work with, so Linked Senior is a great tool to enhance the lifestyles of residents in these developments," he says. "Instead of paying money to have an occasional live performer come in, communities can use technology to enhance their service delivery."
He also sees the nimble startup's flexibility as an advantage.
"Linked Senior is constantly modifying its ideas to meet the needs of the market," Gurney says. "The willingness of these two guys to roll up their sleeves and listen to their customers will make this a success."