The broken 296 stocks: One survivor's story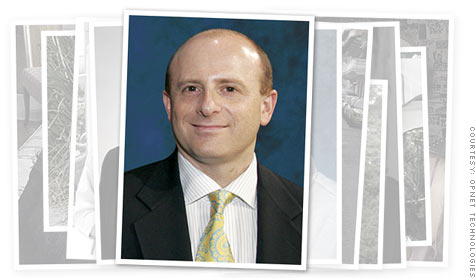 NEW YORK (CNNMoney.com) -- The Great Market Crash of 2:45 P.M. was an equal-opportunity collapse: Alongside major Dow components like Proctor & Gamble and 3M, dozens of tiny and thinly traded companies saw their stocks suddenly nosedive.
For Opnet Technologies CEO Marc Cohen, Thursday's roller coaster was one of the wilder workdays he's had since cofounding his Bethesda, Md., software company 24 years ago. As the Dow plunged more than 1,000 points, Opnet's share price crashed with it, plummeting from nearly $16 a share to below $6.
Cohen was out of the office at a client meeting, but caught a news alert that the Dow was in freefall. "It immediately prompted me to jump right on my iPhone and check out what was happening to Opnet," he recalls. "I saw that we had taken quite a beating."
The share price was shocking, but the crash's severity was actually somewhat reassuring to Cohen. "Deep down I did not really panic because I knew that this was something abnormal," he says. "There was absolutely nothing in our control that we could do."
And then, in a blink, the crisis was over. Opnet's share price snapped back, closing for the day at $14.99 -- down 6%, but a far cry from the single-digit cellar it temporarily tumbled into. For a company whose market cap hovers around $300 million, it was a dramatic brush with Wall Street's live wires.
Friday morning, Cohen and his CFO found out that Opnet (OPNT) is among the 296 companies that will have trades cancelled by Nasdaq and the other exchanges. There was no outreach from exchange officials about the move. Opnet's executives found out the old-fashioned way, by clicking a list in a news report and spotting their company's name on it. (To see the full list, click here.)
Cohen is relieved to hear that a glitch -- not an actual trade -- was behind his company's share crash, but now he's waiting to see how much mop-up the accident will require. Stock databases all over the Internet are still showing an artificially low Thursday intraday trading price for Opnet. That throws its 52-week price range, a metric investors often consult, into disarray.
"We're going to give it a week to sort out before we start to contact the public," Cohen says. He's hoping that the exchanges and market-data providers will be able to sift through and clean up their data. Otherwise, Opnet's CFO has a long slog ahead to get the data trail repaired.
Opnet's employees and investors stayed calm throughout the whiplash stock swing -- Cohen says none have contacted him with questions or concerns about why his company's stock got whacked.
But he's amazed that it could happen at all.
"What surprised me is that I was always under the impression that computerized trading had all these checkpoints and alerts," he says. "Trading should have stopped."
After all, this isn't the first time Wall Street has suffered a stock dip that snowballed thanks to automated trading triggers. In 2007, a computer glitch set off a cascade of errors and sent the Dow down 200 points in an eyeblink.

"What I'd like to know is, why didn't we fix it the first time?" Cohen says. "It's still broken. There's something really wrong with the system."