BP cuts checks for workers' lost wages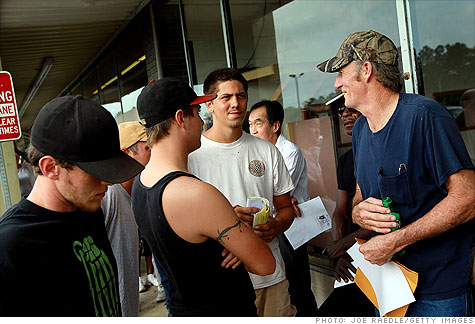 NEW YORK (CNNMoney.com) -- The scope of the damage from the Gulf Coast oil spill is still hard to calculate, but here's a grim tally: More than 23,000 workers and business owners along the Gulf Coast have filed claims so far for lost income.
BP (BP) has made payments already on 9,000 of those claims, disbursing $27.8 million to fishermen, shrimpers, charter boat captains and others whose livelihoods are now in limbo, according to BP spokesman David Nicholas. The company has 420 claims adjusters staffing nearly two dozens processing centers in Alabama, Florida, Louisiana and Mississippi.
"We've paid claims for immediate hardship," which typically come to a month's estimated salary, Nicholas said. "We're trying to process the others as quickly as possible."
Damon McKnight is the owner of Super Strike Charters, which operates three boats in Venice, La. He said he was paid $5,000 three weeks ago. Among his employees, the captains of two of his boats got $2,500 each, while deckhands each received $1,000.
That's a drop in the bucket compared to what they could have earned out on the water, McKnight said. In a good year his company can pull in $50,000 a month during the fishing season's May to August peak.
"We expected to make a lot of money [this summer]. Right now, we're not making the money we need to make," said McKnight, who has been in business for 14 years.
Others are still on hold, unsure of when they will receive a payout.
"I submitted a claim three weeks ago and haven't heard back," said Josh Howard, the 28-year-old owner of Venice-based Deep South Charters. "I talked to [BP] once and they said my name was in the system."
Howard, who expects to be paid $5,000 for the month he's already been out of work, is fairly new to the charter business, and was relying on a strong season this summer to help pay off his startup costs.
"A lot of people just got their businesses up ... this was going to be a good year for a lot of us," he said. "I just got a new boat this year and spent $50,000 alone on tackle."
All claims will be assigned to an adjuster for evaluation, BP said in a prepared statement. Some will be paid within days, but BP's Nicholas said that "tax returns and previous records of earnings may be appropriate" for larger and more complex claims.
McKnight has already been asked to submit three years of tax returns in order to receive additional funds.
The requirement could prove thorny for fledgling companies like Deep South Charters, which are still struggling to establish themselves. "If they are going off the last three years, we're going to get screwed," Howard said.
BP recently said that costs to clean up the oil slick have exceeded $350 million, or $16 million per day, since the April 20 explosion that sank BP's Deepwater Horizon drilling rig 40 miles off the coast of Louisiana, leaving 11 workers missing and presumed dead.