How a business makes it to $1 million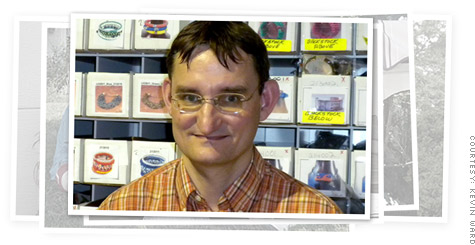 NEW YORK (CNNMoney.com) -- After a year with the Peace Corps in Kenya, husband and wife team Kevin Ward and Renice Jones returned to the U.S. with a business idea: import Kenyan crafts and provide artisans with an affluent new market for their wares.
The idea that launched Global Crafts was simple. Building a profitable business around it wasn't. Less than 50% of new ventures make it to year five, and fewer still grow big enough to cross a key milestone: $1 million in annual sales.
Global Crafts made it -- but it took eight years and a few false starts to get there.
In 2002, the couple launched Global Crafts as a 650-square-foot retail store in New Smyrna Beach, Fla. The sleepy beach town had few buyers interested in gifts and crafts from overseas.
"We didn't sell many items. No one cared about eliminating poverty," Ward says. The store managed only $50,000 in sales, forcing the couple to scrape by on minimal salary.
Instead of carrying on with a flawed business plan, Ward took a step back and started over.
In 2003, Global Crafts shuttered its retail store and started selling wholesale on the Web, targeting the 100 stores in the U.S. that specialized in handmade overseas items. Ward and Jones invested $40,000, opened a 1,100 square-foot-warehouse, and gained Fair Trade Federation accreditation, boosting their credibility with retailers. Following Fair Trade's principles, Global Crafts pays craftspeople 50% upfront and 50% when the item is shipped.
Suddenly, it was a whole new ballgame -- and much more successful. "Wholesale brings volume," Ward says. "Fair trade is a niche market, and it's easier to sell to a limited number of buyers if you know who they are."
Global Crafts targeted retailers through direct marketing and by sending them free samples, attracting 50 accounts. By keeping its wholesale prices low -- $8 to $12 for wire bangles, bracelets, and napkin rings -- the company grew sales to $200,000 in 2004.
Revenue rose 40% a year from 2005 to 2007, as Ward and Jones learned how to boost sales by customizing products and offer incentives. Despite its growing business, Global Crafts continued with a very lean staff of just four people besides the founders: a brand manager plus one employee to process orders and two workers to fulfill them.
But in 2008, the recession hit and business faltered. Ward went back to the drawing board a second time.
Global Crafts launched a second website that year, Gifts with Humanity, to target retail customers. It formed partnerships with Amazon (AMZN, Fortune 500), World of Good, and Overstock.com's Worldstock, which carry its items in return for a cut of the sales.
In 2009 -- with the economic downturn peaking -- Global Crafts had its best year ever and crossed the seven-figure mark. Its annual sales were $1.3 million, with 65% of the revenue coming from the wholesale and the rest from the new retail brand. This year, Global Crafts is on track for sales of $2 million.
Ward says there's two secrets to Global Crafts' success: customer service and search optimization.
"We get orders out the next day. If it's on the website, it's in stock," he says. The company invests $40,000 a year in Google ads, so Global Crafts shows up prominently when potential customers search for "fair trade jewelry."
Carmen Iezzi, executive director of the Fair Trade Federation, attributes Global Craft's success to having "great products, and working directly with its artisan partners to develop products. It eliminates the middlemen who might distort prices."
Now that it's nearing $2 million dollar in sales, Ward is toying again with a once-abandoned strategy.
"We're considering opening several retail stores," he says. With access to a $300,000 credit line, Global Crafts would go after a highly trafficked site this time around. If the first store succeeds, Ward says he would consider franchising.
Which illustrates the real key to building a seven-figure business: Learning from and fixing your inevitable mistakes.