Money runs out for small business loan breaks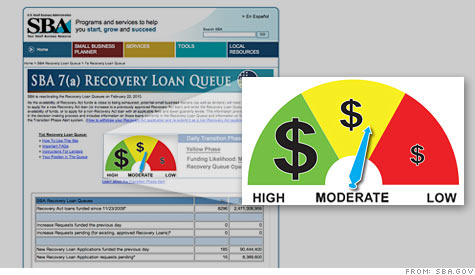 NEW YORK (CNNMoney.com) -- In the middle of the federal government's National Small Business Week, two of the most successful Small Business Administration programs are about to run out of money -- again.
The SBA announced Wednesday that it is opening up its Recovery Loan Queue for the fourth time.
For more than a year, the SBA has used money first allocated in last year's Recovery Act to temporarily reduce fees for borrowers and increase the guarantees banks receive on loans made through the agency's lending programs. The SBA's loan volume has picked up sharply in that time, a turnaround agency officials attribute to the stimulus incentives.
But the funding for them ran out in November. Since then, the agency has relied on a series of temporary extensions to keep the loan sweeteners in place. Every time the money runs out, the SBA opens up its Recovery Loan Queue to track applicants hoping to collect the last few remaining dollars.
The latest authorization for some of the loan incentives expires at the end of this month, and the money for them is likely to be exhausted even sooner.
President Obama and many in Congress say they want the loan incentives extended for at least the rest of this fiscal year, which runs through September. But the two chambers of Congress haven't yet agreed on legislation to do that. Result: A series of emergency bills that so far have kept the funds flowing, but only after several brief expirations.
"The stopping-and-starting is problematic," said SBA spokesman Jonathan Swain. "It is a complicating factor for our lenders and our borrowers."
When the funding pool starts to go dry, lenders scramble. Seacoast Commerce Bank, a community bank in Chula Vista, Calif., had pushed five SBA-backed loans through by midday Wednesday.
"It certainly puts a lot of strain on the whole process," said David Bartram, an executive vice president in the bank's SBA division.
It also throws borrowers into limbo. Losing the SBA's fee waiver can make a loan thousands of dollars more expensive for the borrower -- and there are some loans banks are only willing to make if they can get the higher SBA guarantee. Without it, those loans become too risky.
"There are some customers that we are not going to be able to help," Bartram said.
Members of both the House of Representatives and the Senate are pushing for another extension, but it's unclear whether legislation can make it through before the Memorial Day break.
"Nothing gets through Congress easily these days, even bipartisan legislation," said Lynn Ozer, executive vice president of government lending at Susquehanna Bank.
SBA lending is one of the few bright spots in an otherwise barren credit landscape, but it's still a small part. A recent government report estimated that SBA programs account for just 4% of all small business lending.
President Obama this week renewed his push for a new, $30 billion loan fund to seed small banks with capital to boost their local business lending. In a report issued Tuesday, the Congressional Budget Office estimated that the measure would cost the government $3.3 billion over the next five years.