Turning abandoned shopping carts into sales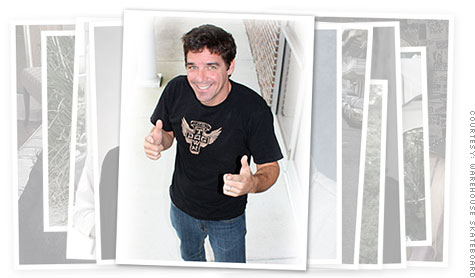 (CNNMoney.com) -- From the first day he launched his online skateboard store in 2002, Mike Duncan faced a problem that has plagued retailers since the dawn of online shopping: abandoned shopping carts.
That's the term for customers loading merchandise into a virtual cart, then leaving the website without paying for anything. These customers aren't stealing, but they drive merchants crazy. To them, every abandoned cart is a sale they failed to close.
"If you can get just a small fraction of customers to decide to make the purchase instead of leave, you're talking about a business adding potentially thousands or hundreds of thousands of dollars a year in sales," says Duncan, who owns gear and apparel shop Warehouse Skateboards in Wilmington, N.C.
Last year, Duncan began using LivePerson.com to tackle his abandoned-cart problem. LivePerson (LPSN) specializes in connecting subject-matter experts with online consumers, and draws most of its revenue from selling its services to online retailers. Merchants like Duncan can rent LivePerson's software to connect their own customer-service staffers with potential buyers.
For browsers poking through a website, LivePerson's instant messages -- the equivalent of a salesperson approaching in a store and asking, "May I help you?" -- can be unsettling. But customers can click a button to dismiss the LivePerson agent and ignore the chat feature.
"We may get two out of 10 customers who dismiss us," Duncan says. From the eight customers who don't, Duncan gets a wealth of information about his site--and the potential to close sales that might otherwise slip away.
"Customers will ask us, 'Why can't I see my shipping rate?' Well, it's because at that particular moment of shopping, we hadn't collected their address yet, but it's good for us to know they're wondering that," he says. "Once we started using LivePerson.com, we've changed how our menus look, the content, the layout -- it's like we've been beta testing every day."
The service helps move more merchandise: "If you go into a store to buy a skateboard, the salesperson is going to say, 'You need a helmet and some knee pads, right?' We can upsell our average order value to the tune of $15 and $20," Duncan says. He's also noticed a decrease in returns, because agents can guide customers -- like parents holiday shopping for their kids -- who don't know the nuances of the latest skateboarding gear.
Duncan pays $99 a month for one LivePerson license, which shifts between two Warehouse Skateboard employees who staff the chat line from nine hours a day, Monday through Friday. During the holiday season, he ramps up to four licenses and expands the chat hours to 8 a.m. midnight, seven days a week. The staffers juggle their chat duties with their other customer interactions, using e-mail, fax, and the telephone to communicate
Duncan estimates that he's been able to convert 1% of his abandoned shopping carts into sales. Sounds small, but for a company generates millions each year in sales (Warehouse Skateboards is privately held, and Duncan won't divulge its revenue), small percentages add up fast. "It's been very effective for us," Duncan says of the investment.
Francisco Bustos', owner of two flower-delivery websites, took a different approach to the abandoned-cart problem. Using performance-monitoring technology from Gomez, he focused on shavings seconds off his sites' page-load times.
Those seconds quickly add up to dollars: "You can just imagine for Mother's Day, it's very important. We can't allow even two or three hours for the website to be slow or not working," says Bustos, who runs global retailers DaFlores.com and RosesnBoxes from Miami. The business has 10 employees and annual revenue of $3 million.
Gomez helps Bustos zoom in on problem spots. Customers from Australia were abandoning DaFlores in droves. After analyzing the traffic with Gomez, Bustos made back-end changes to speed up local load times. "We're getting 25% more orders from Australia than we used to," he says.
Gomez prices its service based on consumption, with the bill varying depending on how extensively a customer wants to deploy its testing tools. The rates start at around $4,400 per year.
Bustos says it's worth the hundreds of dollars each month he pays. The value really hit home one sleepless night at 3 A.M., when Bustos -- awake thanks to his newborn son -- glanced at his Web stats. To his astonishment, he saw orders piling up, unprocessed. A component had broken in his site's shopping-cat software. Before Gomez, he only would have noticed something amiss after hours of inaction. But now, he was able to alert his IT expert and get the problem solved just before dawn -- a critical advantage, since morning is a florist's busiest time of day for processing orders.
Duncan puts the plight of the abandoned online shopping cart this way: "It costs a lot of money for a business to drive people to your website. If they leave without buying something, you've lost not just a sale but quite possibly a repeat customer."