Louisiana to BP: Show me the money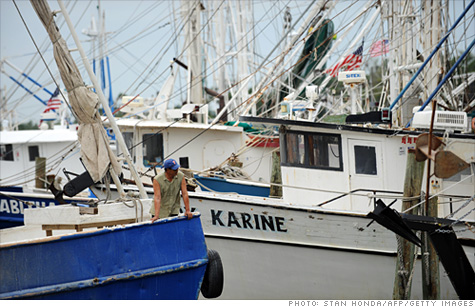 NEW YORK (CNNMoney.com) -- For thousands of people put out of work in the Gulf because of the oil spill, BP's checks to pay for lost wages and income are just not coming fast enough, if they come at all. The state of Louisiana is demanding that BP's claims database be made public so it can understand what's the holdup.
"Hardworking people should not be forced into poverty by the oil spill," said Louisiana Workforce Commission Executive Director Curt Eysink in a statement. "We need to understand why so many claims have not been paid, some for many weeks."
The Louisiana Department of Social Services (DSS) and Louisiana Workforce Commission (LWC), along with the Louisiana Attorney General's office, have requested - multiple times - that BP grant the state access to the claims database and provide information about how the oil giant is making its decisions to approve or deny claims related to the oil spill, according to a statement released Friday by the Joint Information Center in Louisiana, a group responsible for coordinating oil spill communication.
"More than 40 days into this disaster, people's livelihoods are on indefinite hold, it is becoming harder to support their families and some even face eviction from their homes," said DSS Secretary Kristy Nichols. "Immediate assistance from BP is critical."
BP 's CEO Tony Howard has promised his company will make good on all legitimate claims made by workers put out of work by the spill.
The leaking BP well has spewed out as much as 630,000 barrels of oil, making it the worst oil spill in U.S. history. After a few botched attempts to stop the leak, BP was able to put a containment cap on the well Thursday night that is capturing some oil, though it is still unclear whether the fix will work. According to the most recent situation report from the state of Florida, leaking oil could threaten the shorelines of Alabama and possibly the western Florida Panhandle in the next few days.
The result: As of Friday, about 32% of the Gulf's federal waters have been closed for fishing, leaving shrimpers and fishermen on shore, unable to work.
Beaches that are typically packed with tourists this time of year are sparse, leaving vacation rentals empty. As of Friday, 478 claims had been submitted for lost income on rental properties in Florida alone and a grand total of $86,439.89 had been paid out.
BP will be on the hook to pay out three different types of claims: bodily injury or illness, property damage, or loss of income claims. The company has spent more than $40 million so far making payments on 15,000 of the nearly 32,000 claims filed by area business owners and their workers. And the claims list just keeps growing: 510 claims adjusters are staffing 22 centers across the four states.
The state says it thinks the greatest demand for claims is coming from the loss of income category. More than half of the 7,469 claims filed by individuals and businesses for loss of income were yet to be paid out by BP, according to data Louisiana got from BP through May 29.
"Many businesses already have begun to close or are teetering on the edge of having to close because of the oil spill," said LWC Director Eysink. "BP committed to paying them enough to stay open and keep their employees on the payroll, but that is not happening. BP needs to live up to its commitments that it will pay for the losses that result from the spill."
BP has already paid 14,000 initial claims, which has been limited to a month's salary or net profit.
On Friday, the company announced that it would begin sending payments for an additional month of lost income. With the second advance payments, BP estimates that payments for lost income or net profit will amount to $84 million, the bulk of which would come from claimants in Louisiana.
It's not about the money, according to BP. On a conference call Friday morning with investors, BP CEO Tony Hayward said that the company has plenty of money to spend on the oil spill, noting $30 billion in cash flow in the last year. But the oil giant still won't let the state get a glimpse of its claims records and methodology.
BP Managing Attorney Mark Holstein said in a letter Wednesday that while the state's requests are "undoubtedly made in good faith, they risk distracting our team from the very important goal of handling claims," according to the release from the Joint Information Center.
Louisiana's Commissioner of Insurance Jim Donelon is not waiting for BP to hand over information. Members of Donelon's team are heading to the locations where claims are being processed on behalf of BP Friday. Donelon has put together a committee to oversee the claims distribution process, and following the site inspections Friday, he will work with the Governor's office and the Attorney General's office to come up with an immediate plan of action.
Even as the state of Louisiana pushes hard to get more information from BP, the federal government backed up the oil giant. National Incident Commander Admiral Thad Allen called the oil giant "a responsible party" and said the government was monitoring the claims process.
"The federal government continues to provide oversight of this process to ensure BP is expeditiously reimbursing claims to address immediate cash flow needs and long term recovery and quickly resolving any issues that arise," said Allen Friday.