Germ-killing uniforms for doctors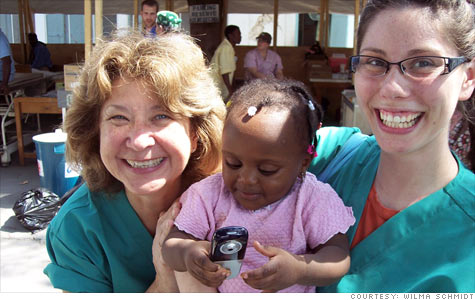 (CNNMoney.com) -- When the going gets tough, plain old cotton won't do. Just ask sportswear manufacturers, many of which incorporate anti-microbial, fluid-resistant fabric into their clothing lines to keep athletes dry and odor-free.
Last year, biotech industry entrepreneur Uncas Ben Favret was thinking about such high-tech textiles. And he asked himself: Why are players in some of the toughest arenas around -- doctors and nurses -- still wearing scrubs and lab coats made from unsophisticated cotton blends?
Errant microbes are the scourge of modern medical facilities. Each year, the spread of pathogens inside hospitals costs the facilities $30 billion and causes an estimated 1.7 million infections and nearly 100,000 deaths, according to the Centers for Disease Control and Prevention.
Maybe germ-killing, fluid-resistant uniforms could help, a friend who works as a surgeon suggested to Favret. And so Vestagen Technical Textiles was born. Under the brand name Vestex, Favret's startup makes lab coats and scrubs from fabric that is breathable, antimicrobial and fluid-resistant. Vestagen launched last year in Orlando and has attracted nearly $5 million in seed money from investors.
Vestex scrubs use a chemical compound called organosilane, which forms a colorless, odorless, positively charged barrier on the fabric's surface. "It's like a layer of electrically charged swords," says Favret. When bacteria hit the fabric, it punctures their cell membranes and kills them with an electrical charge. Vestagen licenses that technology, called NanoSphere, from Schoeller Textiles in Switzerland. Schoeller also licenses it to sportswear manufacturers including The North Face and Puma.
When Wilma Schmidt, a nurse at Lakewood Ranch Medical Center in Bradenton, Fla., volunteered to treat earthquake survivors in Haiti earlier this year, Vestagen donated scrubs for her and other emergency medical workers to try out.
Schmidt reported to St. Francois de Sales Hospital in Port-au-Prince. More than half of the hospital was destroyed in the quake. Schmidt spent her days changing bandages on crushed limbs, working feet away from piles of rubble that still hid buried bodies.
"The fluids I came in contact with just rolled off the uniform," she says. "Nothing soaked through that fabric."
Vestex uniforms cost a few dollars more than regular scrubs or lab coats. For example, its scrub tops retail for $24 to $26, while traditional scrub tops sell for about $20 apiece.
In April, Mercy Health Partners in Knoxville, Tenn., bought 600 Vestex lab coats for its doctors. "Studies have shown that physicians bring in bacteria from their ties and lab coats," says Jerry Sanders, chief medical officer for the network of health care facilities. "They are happy to give up the tie, but the lab coat identifies them as a physician. The Vestex coats are effective against a lot of different bacteria."
Vestagen is still in its early stages, with less than $500,000 in revenue since it began selling products in January. In addition to medical garments, the company is developing quarantine curtains, sheets, towels, patient gowns and blankets. Favret says he expects sales will pick up enough to push 2010 revenues over $6 million.
Researchers at Virginia Commonwealth University recently completed clinical trials to examine whether Vestex scrubs had fewer bacteria than regular scrubs when healthcare workers wore each kind over the course of eight weeks, washing them regularly. Halfway through the study, the Vestex scrubs had less bacteria -- a "statistically significant" amount -- compared to regular scrubs, says Gonzalo Bearman, the doctor and associate professor of internal medicine and infectious disease who led the study.
Even before the study wrapped up, Vestagen was winning converts. Wilma Schmidt says her experience in Haiti made her a believer. "I was working in 95 to 100 degree temperatures and I would be soaked with sweat, but the uniform -- inside and out -- dried very quickly," she says. "I felt protected and cool. It was amazing."