Gulf businesses fight for BP payments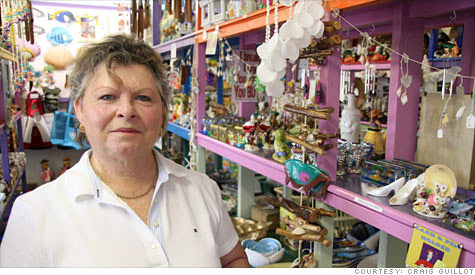 NEW YORK/NEW ORLEANS (CNNMoney.com) -- Small businesses are skeptical -- at best -- of BP's promise that it will pay for all lost income and wages as a result of the oil spill.
So far, BP doesn't seem to be able to keep up.
Of the checks that have been cut, 90% have gone to individual fishermen, and only about 10% have been paid out to small businesses.
Small businesses are getting left out partly because BP (BP) is still trying to figure out how to fairly assess what it owes to whom. An individual worker with a single W2 form or recent sales records can clearly document lost income due to the oil disaster. For real estate agencies, restaurants and retail shops, it is a lot harder.
As of Monday, BP had received 37,000 claims for compensation, but it had only made payments or partial payments on 18,000, totaling just shy of $50 million.
On Friday, BP said it would be sending out a second round of payments this month, to bring the total to $84 million.
Bills pile up, state lawmakers rally: As BP figures out how it will deal with an unprecedented situation, small businesses across the Gulf are watching bills mount and customers retreat.
Emma Chighizola, who owns Blue Water Souvenirs in the small beach town of Grand Isle, La., said her revenues are down by as much as 80%. With oil washing up on the beach daily, there are few tourists in town. Chighizola filed a claim with BP three weeks ago but has yet to hear back.
"They're doing our paperwork now. We've only heard from them once. My store is just empty right now, and the bills don't stop coming in," Chighizola said.
Kelby Linn, vice president of the chamber of commerce on Dauphin Island, a barrier island located 10 miles off the coast of Alabama, told lawmakers on Monday that the claims process for small businesses affected by the spill has been "cumbersome."
State lawmakers are stepping in to put pressure on BP to get money into their communities faster.
For example, on Tuesday, Alabama Governor Bob Riley said he will send National Guard troops and staff from the Alabama Emergency Management Agency into affected communities to help prepare claims.
And last week, the state of Louisiana demanded that BP's claims database be made public.
What should businesses do? Lewis Attardo, director of Florida's Office of Small Business Advocate, said BP requires businesses such as retailers, hotels and restaurants to estimate and provide verification of their losses.
He is advising businesses to ask customers to document that the oil spill is the reason for canceled reservations or broken contracts.
Strong documentation was the secret for Captain Pat Holliday, who manages Cocodrie Charters. He went to the BP claims office on Chauvin, La., on the weekend before Memorial Day. He and two of his guides provided an adjuster with documentation for $95,000 worth of cancelled charters. After only 45 minutes, Holliday was informed that they would receive $5,000 per person, followed by monthly payments of $5,000.
"We had a stack of papers about an inch-and-a-half thick, and they almost burnt up their copier in the office. We could prove that everything was legit," said Holliday.
While the claims process might go smoothly for small operations with their papers in order, it gets more complex for larger businesses. Leonard Kaiser, president and owner of Kaiser Realty in Orange Beach, Ala., manages 650 condos and beachfront homes with approximately $18 million to $20 million in annual rental revenues. Kaiser's summer bookings are down almost 40%.
He is working with his accountant and BP to file a claim, but said there has been more "go between" than he anticipated.
"Initially they have been very cooperative, but I'm not satisfied at this point in time with the follow up. You're dealing with one guy for two weeks and then you have to start over with someone else," Kaiser said.
Depending on BP: Even those business owners that have been reimbursed quickly wonder if they can trust that the payments will continue.
Kim Alfonso, a commercial fisherman from Delacroix, La., was put out of business when the oil spill forced the closure of his fishing waters. Alfonso called BP's claims phone number in mid-May. After providing all of his documentation -- including his boat registration, commercial license and two years of tax returns -- he was told that a check for $5,000 was waiting for him.
"I can't complain. I was fortunate that it went pretty smoothly. It doesn't solve everything, though. What I really need is to get back to work," he said.
Alfonso was told he should receive a $5,000 check every month for at least six months. After that, BP will reevaluate the claim to validate that the oil is still causing his income loss. Alfonso said the money will provide a temporary relief, but he's still worried about his future.
"Things change everyday. What is to say that one day BP just won't pay anymore?," he said. "I've never had to depend on someone else for my livelihood."