Kevin Costner blasts Big Oil 'bureaucratic maze'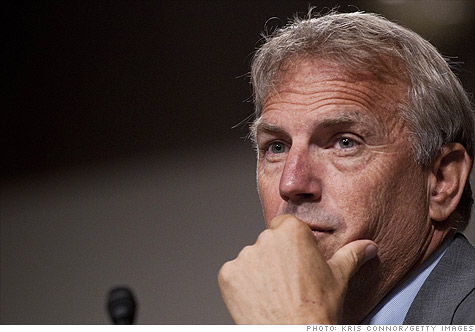 NEW YORK (CNNMoney.com) -- A company Kevin Costner founded worked for 17 years on a technological innovation now being used to help clean up the Gulf oil spill -- and it took almost as long to get Big Oil to pay any attention.
"The whole world is watching as America fumbles its way through the greatest environmental disaster in history," Costner told the Senate Committee on Small Business and Entrepreneurship at a hearing Thursday in Washington. "I believe there are other small companies out there in the private sector just like us. You should know that negotiating your way through the bureaucratic maze that currently exists is like trying to play a video game that nobody can master."
BP said Monday that it has ordered 32 of the 4,000-pound machines that Ocean Therapy Solutions, a company Costner funds, invented to separate oil from water. But getting the machine on BP's radar took a Herculean effort -- even for a rich, high-profile movie star like Costner.
Fellow witness Heather Baird testified about just how impossible that bureaucratic video game can be. Baird is the vice president of communications for Microsorb Environmental Products, a Massachusetts company that uses non-toxic, oil-eating microbes to clean up spills.
BP (BP) has used Microsorb on past spills, and the technology is on the Environmental Protection Agency's approved product list for emergencies like this one. But Microsorb can't get its little microbes into the Gulf of Mexico. The company's executives have spent thousands of dollars traveling to the Gulf, pitching every BP executive and official they can reach on the efficacy and safety of their product.
"We have ceased all other business in an attempt to do what we know is the right thing to do," said Baird. "At each one of these touch points we were told that our technology was needed and should be deployed."
But "BP holds the checkbook," and until Microsorb manages to hack through to the executive with the ability to green-light the project, its oil-eating organisms will remain sidelined.
Bureaucratic quagmire
Individuals and businesses with technologies that could help the clean-up effort start by submitting their proposal to either the government or BP. But what happens next is a "bureaucratic quagmire," in the words of Senator Olympia Snowe, R-Maine. There's currently no uniform process for evaluating and approving good ideas.
Rear Admiral Ronald Rabago of the U.S. Coast Guard testified that BP recently turned over the suggestions it has been collecting. The Coast Guard is now going through those thousands of proposals.
The EPA and the Coast Guard are also screening proposals coming in through their own, independent channels. But the process isn't working so well: Of the 1,900 submissions the Coast Guard has received, only one proposal has made it to the final level of screening. None have actually been deployed.
The EPA doesn't know if any of the ideas that came through its channel are actually in use, according to Paul Anastas, the agency's assistant administrator of research and development. After screening the proposals, the EPA forwards the ideas to other agencies that could implement them -- then never tracks what happens next.
"Businesses with alternative technologies are confronted with needless roadblocks resulting from a dysfunctional process," Snowe said. She wants the government to develop a fast-track, unified review process.
Lawmakers are eager to see their homegrown tech companies get a piece of the billions being spent to fight the spill. The government should "involve local Louisiana small businesses in the clean-up effort as a way of mitigating the economic hit they are clearly taking," said Senator David Vitter, R.-La.
Not all businesses have the backing of Kevin Costner, after all. Costner said he spent "well over a million dollars" over the past month pushing his technology before BP signed on.
The tragedy of the spill is being magnified by the time wasted in responding to it. In an emotional plea, Costner said he would recommend, demand and beg policymakers and the oil industry to keep the freeze on new U.S. offshore deepwater drilling in place until viable catastrophe plans are in place.
"Before you lift the moratorium, before you do that, please have clean-up technology in place, or at least on the way in a specific time, that is designed to meet and match with full force the worst-case scenario that can be presented to us," he said.