BP: The only game in town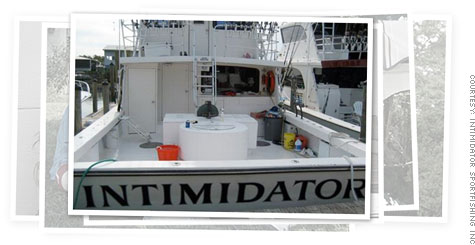 NEW YORK (CNNMoney.com) -- Small businesses across the Gulf coast have been brought to a screeching halt because of the BP oil spill. Now, those businesses have nowhere to turn but to BP.
"We are 100 totally percent out of business. Our fishing waters are closed, state water is closed, tourism is down," said Ben Fairey, a charter boat captain in Orange Beach, Ala. "So, we are totally dependent on BP at this point."
Fairey, who has been fishing out of Orange Beach for 37 years, has never experienced anything like this. He hasn't fished since June 1 and has laid off his two employees. The owner of the boat he operates is filing a claim with BP. And unfortunately he's not alone.
To date, BP has been hit up with more than 80,000 claims from businesses and individuals seeking lost income. About half of those -- almost 41,000 -- have been paid out, totaling more than $128 million.
Earlier this month, President Obama and BP executives announced that the company would put $20 billion into an independently managed account to ensure enough money would be available to cover economic damages related to the spill.
But with half of the submitted claims as of yet unpaid, BP has come under fire for being too slow. BP spokesperson Mark Salt says that the average wait time from submitting a claim to receiving a check is four days. According to BP, the unpaid claims are in the early stages of the process, waiting on additional documentation or have been deemed "unreasonable."
Small businesses on the Gulf have a mixed perception of the claims process. But they agree on one thing: They are stuck with BP.
"BP is our only hope right now so we do want BP to do what they said they are going to do," said Fairey. "It is kind of counterproductive to sit there and bash them, because, our fisherman? Without BP, they are done."
Fairey believes that BP is doing the best it can. "On the majority side, people are getting paid." The process isn't perfect, however. He noted that restaurants, for example, have had trouble proving that their foot traffic has fallen off as a direct result of the spill.
'There was no other option': Johnny Greene has been working on a charter boat since he graduated from high school in the late 1980s. He now owns and operates his own business, Intimidator Sportfishing, which operates out of the same marine town, Orange Beach, as Ben Fairey. While many of his colleagues have gotten jobs working for BP as part of the clean-up operation, Greene has not. Yet.
Greene filed two claims for loss of income last week, one personal and another for his business. He wanted to continue fishing as long as he could, but in mid-June, "I finally realized I was done." He called the claims hotline at 4 a.m. "There was no other option."
Greene worked with an accountant for a few days to get together the myriad documents BP requested.
"They are refining the process as it goes along. In the beginning, they didn't know what to ask for, just like we didn't know what to submit," said Greene.
Greene picked up a $5,000 check at the local claims office on Sunday to compensate for his personal loss of income. His business claim, which ran in the vicinity of $70,000, had to be sent to a claims facility in Louisiana that processes large loss claims. He is waiting each day to hear from BP regarding his business claim.
The $5,000 check is a start. "I am glad I got it, and it certainly takes a little bit of the pressure off," said Greene. But as a business owner, $5,000 is "not even going to come close" to covering his bills.
Money won't fix everything: Even if BP is able to efficiently and accurately cut every claim check that is submitted, it won't be able to fully compensate for the damage to the Gulf community.
"I have spent 20 years of my life building a list of clientele that come back and vacation," said Greene. "They may not come next year and who knows what is going to happen in the future and how do you put a dollar value on that?"
For those who have signed up to work for BP in the clean up efforts, the paycheck is welcome, but the change of lifestyle is brutal.
"We have enough stress in our life. Our way of life has totally changed. Instead of being independent business owners and operators, now most of these guys answer to somebody," said Fairey. "Don't make this hard, that is all I am saying."