BP claims czar: Not everyone will get paid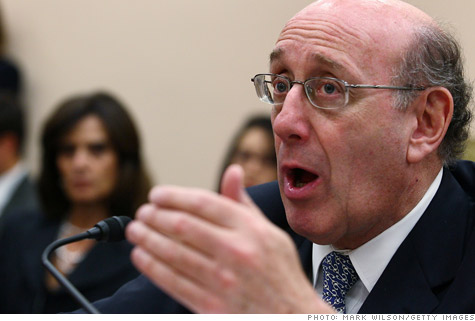 NEW YORK (CNNMoney.com) -- The new head of the Gulf Coast disaster's claims fund says his first two priorities will be to cut bigger checks and send them out faster to the oil spill's economic victims.
In his first appearance before Congress since taking on the job, Kenneth Feinberg on Wednesday criticized BP's (BP) process for compensating those who have lost their livelihoods in the spill's wake. The oil company has paid out almost $130 million so far on 41,000 claims -- but more than 80,000 claims have been submitted.
"It is not sufficiently efficient. It is not paying all that many small business claims," Feinberg said in testimony before the House Committee on Small Business. Instead of the month-to-month emergency checks going out now, Feinberg plans to have his new entity, the Gulf Spill Independent Claims Fund, send out six-month lump sum payments "to give small businesses more certainty."
The former special master of the September 11th Victim Compensation Fund, Feinberg has experience with the bureaucratic and political complexities of managing disaster payments. Dozens of Congressional representatives pressed him with questions about how claims will be paid out and to whom.
Exactly what constitutes a "legitimate" claim is still being determined, but Feinberg said that he envisions limits.
What about tourism dollars lost because people don't want to go places they think will be coated in oil?, asked Nydia Velazquez, D-N.Y., the committee's chairwoman.
"If there's no physical damage to the beaches and it's a public perception, I venture to say that it is not compensable," Feinberg answered. "How we deal with that problem is something I've got to address. That's in this area where some discretion's going to have to exercised."
Real estate claims will be another gray area. Already-depressed real estate values will fall even more for properties physically damaged by the oil or located near beaches clogged with tar balls -- but home values in some areas might fall because of simple wariness.
"I'm on the beach, but there's no oil at all there. It's just the public perception that drives the values down. I mean, on the one hand, those people are suffering. They -- they deserve some help," Feinberg admitted. "On the other hand, there's not enough money in the world to pay every homeowner, wherever they live in the Gulf Coast, who says, 'My property is down because of the oil spill.'"
Feinberg made two more pledges about his still-evolving claims process: It will be transparent, and it will be locally staffed. Appeals will be fielded by local officials who have credibility with Gulf residents, he said. And Feinberg himself plans to be a frequent presence in the Gulf.
"This program can not be administered by me from Washington," he said.