For cut-rate dental care, head to Mexico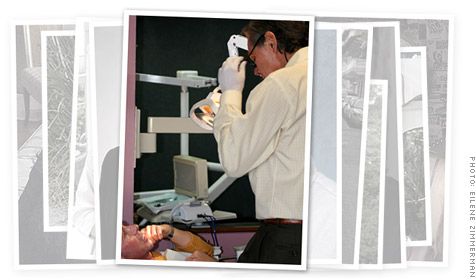 TIJUANA (CNNMoney.com) -- A good smile can be a pricey proposition in the U.S., where barely half the population has dental insurance and routine procedures can run up four-figure bills. Want a porcelain crown for a damaged tooth? That'll cost $945, on average.
Or you can step across the U.S. border and cut your tab to $250.
That's the going rate for a crown at DentiCenter, a small but growing chain of full-service dental centers lining the U.S. border along California, Arizona and Texas. DentiCenter's six outposts are located in Mexico, but 97% of its patients come from the U.S.
Founded by Juan Eng, a USC-trained periodontist from the Baja peninsula who became a U.S. citizen seven years ago, DentiCenter opened its doors in 1991 and now faces record demand for its services. Its roster of patients has more than doubled since 2007. Last year, revenue topped $2 million. For 2010, Eng projects sales of around $3 million.
"The recession definitely helped, because people needed to save money, and the spread the word about us," Eng says.
Americans are increasingly willing to head across the border in search of a deal. Paul Keckley, executive director of the Deloitte Center for Health Solutions research group, estimates that dental tourism is increasing about 20% a year -- and the typical consumer is a middle-income American with insurance.
"These are not the underserved," he says. "These are people whose out-of-pocket expenses hit their discretionary spending very, very hard. They are trying to juggle health care costs with groceries, transportation and housing."
To attract American clients, Eng set out to make his practice mirror their experience in the U.S. His office in Tijuana, just a few hundred yards from the San Ysidro border at the edge of San Diego, is modern and immaculately clean, with nine bright, comfortable exam rooms. It looks and feels like a typical U.S. dental office -- except that the staff is Mexican and bilingual.
Eng knew acceptance from American insurers would be necessary if he wanted to build a sizeable American clientele, so he became certified as an in-network provider for Delta Dental and Aetna. And to appease Americans concerned about Mexico's reputation for crime, he locates his offices right at the U.S. border, often within sight of the crossing.
The price-drop that border crossing buys is sizeable: DentiCenter's services cost about one-third of what they would in the U.S. A comprehensive orthodontic treatment runs around $5,600 in the U.S. At DentiCenter, the price tag tops out at $1,500. Nereda Cuevas, an orthodontia patient at the Tijuana office who stopped in to have her wires adjusted, said her braces cost $1,500; her out-of-pocket costs were $500.
How does Eng keep his prices so low? His dentists -- he employs 38, several of them specialists -- earn about one-third what a U.S. dentist nets, which averages $205,960, according to the American Dental Association.
Eng also cut costs by bringing in-house -- at Mexican prices -- many of the services other dental offices purchase from outside vendors, like manufacturing supplies and processing claims. "I spent years gradually expanding the business this way, in order to reduce costs and compete in the U.S. market," Eng says.
His umbrella company, EEA (Eng Especialisto Associado) Dental Support Services in Chula Vista, Calif., includes DentiCenter, the service-delivery business; a DentiCenter pharmacy; Patrian, for processing insurance claims; and Promedent, a dental supply and equipment company. EEA even operates its own marketing company, and Eng is part-owner of Moreno Lab in Tijuana, which produces products like crowns, bridges, veneers and dentures.
To ensure that service and quality in his offices are consistent, Eng requires his dentists to go through a three-year residency program he developed. A Big Brother-like panel of television screens adorns the wall of his office, each showing different, live views of exam rooms in all six DentiCenter offices, so Eng can keep an eye on things from afar.
There will soon be more TV screens on that office wall. DentiCenter is preparing to open two new offices this year, one near El Paso, Texas, and the other near Nogales, Ariz. Eng's master plan includes expanding to 14 full-service dental offices.
Deloitte's Keckley thinks there will be plenty of business to keep them busy.
"I don't think this is going to end with the end of the recession," he says of the surge in dental tourism. "The cost of healthcare is becoming a major problem in every household. This is a trend, not a fad."