No oil on the beach. No tourists, either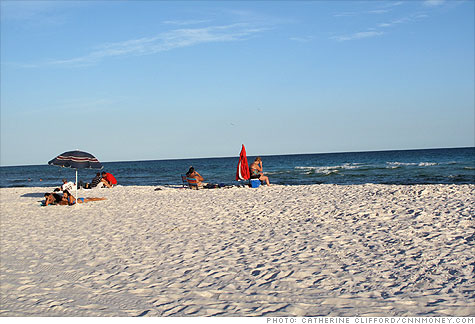 DESTIN, Fla. (CNNMoney.com) -- Tourists have been acting like the beaches of the Florida Panhandle are covered by oil, and for communities like Destin, their absence hurts.
About the only thing on Destin's beaches at the end of July was "June grass," harmless green algae that washes up in Gulf waters every year. And a sunbather here and there. Very few sunbathers. Very few people, in fact.
BP has capped the gushing well. But Destin's economy has been walloped by a phantom ripple effect: Widespread fear by tourists that the oil had wrecked its coastline.
Destin Snorkel has been hit hard. Revenue was down 60% according to Val Costley, one of the partners of the operation. "I get calls every day: Are you snorkeling in oil?" said Costley. "We've been painted in this broad brush that we've been destroyed and that's just not true."
Trevor and Sarah Ladner, the sole proprietors of WhiteSandVacationRentals.com, have had about 30% of their reservations cancel. They rent out seven homes in Destin.
"It is the fear that people have. The misconception," said Sarah. "They are imagining a tar slick on the beach," added Trevor.
Destin, located one hour East of Pensacola on the Gulf Coast of Mexico, has had a couple days where "tar chips" washed up on the beaches. BP cleanup crews descended on the beaches by the busload and combed them clean. Some workers have remained in Destin since then, but there isn't much for them to do, other than pick up trash.
Charles Noonan, the owner of the Inn on Destin Harbor, has a house right on the beach. "I get up every morning and walk my dog and we haven't had any oil on the beach." Noonan is aware that there were oil chips on some parts of the beaches in Destin, but he hasn't seen any.
Blown out of proportion: The problem for businesses here is that many vacationers changed their trip to Florida this year based on what they saw on television. The national media has not been distinguishing which beaches in Florida are oily and which beaches are clean, leading many tourists to cancel their plans.
Between May and June, the Inn on Destin Harbor lost $102,000 worth of reservations. And July was even worse. The Inn usually expects 90% occupancy in July, but this year, the inn was about 30% lower, Noonan said. To attract customers, The Inn on Destin Harbor has cut rates across the board by 20%.
But Noonan was hopeful that with the oil well capped, tourists might start coming back: The Inn was booked solid for the last weekend in July.
Trevor and Sarah Ladner have noticed that customers ask for a discount as a matter of course lately. "We rarely get a call from someone who isn't looking for a bargain," said Trevor.
Terrible timing: The oil spill was especially damaging for seasonal businesses. Before the oil spill happened, 2010 was looking like a solid year here.
"March and April were so good, we felt the recession was over and we were on the way to a record year," said Noonan.
Business was good for Destin Snorkel before the spill, too. The company expanded to offer Snuba, a combination of scuba and snorkeling.
But by June, revenue plunged 40%. "Of course it is great news that they got the cap on, but of course it is too late to save this season," said Costley of Destin Snorkel. "The vacation families have made their minds up already."
Students go back to school Aug. 12, and that marks a turning point in the tourist season, says Paul Barcus, the owner of Cold Stone Creamery in Destin Commons. Sales are down 15% at the ice cream shop.
At this point, Barcus is waiting for the snow birds.