A 210-year-old company's high-tech plans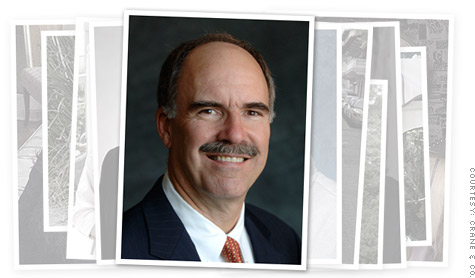 DALTON, Mass. (CNNMoney.com) -- Crane & Co. is best known for its high-end writing papers, but the stationary company's cash cow is, literally, cash.
In business for more than 200 years, Crane -- rumored to have supplied Paul Revere with the paper that served as the American colonies' first non-coin money -- today pulls in 80% of its revenue from making currency for countries all over the world. From its headquarters in Dalton, Mass., the privately-held company continually experiments with new anti-counterfeit technology in its R&D labs in Massachusetts, New Hampshire, Georgia, and Sweden. Its latest high-tech breakthroughs showed up in the redesigned $100 bill that entered circulation in April.
Charles Kittredge, the company's 58 year-old CEO, recently sat down with CNNMoney to talk about company lore and his newest challenge: Finding ways to make his family's paper company relevant in an increasingly digital world. Below is an edited transcript of the conversation.
In 1850s Dalton, there was the Crane family and the Kittredge family. They all married each other. My father's grandmother was the granddaughter of Zenas, who is credited with founding the company. I can see the Housatonic River from my desk; Zenas built his first mill here in 1800. The first product was sold in 1801.
The family business was always part of who I was. I wasn't raised in Dalton, but I was born there and went there on vacation. I worked in one of the mills growing up, but didn't think 'this is my career' as much as 'this is who I am.'
I had cousins working at the company, but I didn't come right in, which I think is to everyone's benefit. I went to work at a financial services firm and in marketing. I learned that focusing on client needs and maintaining strong customer relationships are critical to business success; these lessons were transferable to Crane.
I joined the Crane board in 1995 at age 44, was elected chairman in 2006 and was appointed CEO in 2007. By that time I had a broad view of the business and how Crane fit into it.
How has the business changed through the years?
There once were 65 paper mills in Berkshire County because of its access to water to generate power. Today it's just Crane.
Our history shows a determination to find relevancy in the marketplace and develop products that customers want and need at any given time. Having a niche really helped us to survive. We used to be the biggest drafting paper makers, the biggest stock certificate makers, the biggest makers of a certain highly combustible rifle paper, the biggest makers of men's paper shirt collars -- which were the wave of fashion in the 1800s. Thankfully they did away with that one!
Not long ago, within the past 20 years, stationery -- high-quality stationery products made from cotton -- was our big generator. But people don't need 100% cotton private-watermark paper anymore. Now, 80% of our business in terms of revenue is currency. You need constant reinvention, finding relevancy, spending money on R&D to develop new products.
If I look around a crowded room, I can bet that 98% of the people have one of our products in their pocket. Not many companies can say that. The family story is that Stephen Crane made paper for Paul Revere to print Colonial currency.
We make 100% of U.S. currency paper, so we can't really grow market-share there, but we've grown in revenue because of features used to combat counterfeiting, like de-metalized thread and micro-optic film. We bring the technology to the client and we collaborate.
We print currency for other countries as well. We provide paper for some, provide features for others. Our biggest strategy shift has been moving into the international market. We bought a paper mill and printing plant in Sweden, upgraded it, and now we do all our papermaking and printing for Europe there.
If I look out to the next three to five years, that's where the growth is -- the international market. We had a contract with the Chinese government for the Olympic year. These are the people credited with inventing paper, and they ran out of capacity and came to us.
How bad have e-mail and the Internet been for Crane?
E-mail and social networking have driven letter writing to low levels. We have to adapt to those trends. We can't focus on strict business or resume paper. We look at notepaper, invitations, paper for occasions.
If we're good, we can use technology -- the Internet -- to expand our reach further than it is now. We have the Crane.com site. It's a bit stale when you look at the range of competitors -- TheKnot.com, Shutterfly, and others. There are things we ought to be doing and are not. These are things we will be doing in the next few years.
We should be all over digital products. We want 26-year-olds to buy our stationery, not get it as gifts from their grandmothers. We need good designs that speak to people younger than my grandmother.
We need to transform our Web platform from a site that sells products to one that becomes a destination and a resource for consumers at important events in their lives: Weddings, births, anniversaries, etc. We need a site that will allow the customization of design and images to go along with great paper.
We need to redefine Crane stationery from a paper-based business to a personal communication business.