Barefoot shoes try to outrace the black market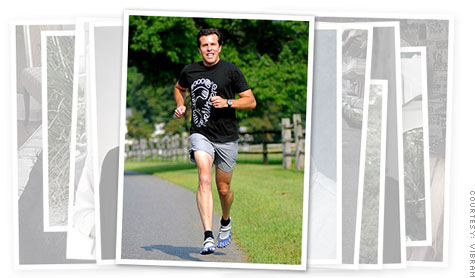 (CNNMoney.com) -- Imagine: You make a really ugly shoe, but one that takes a unique approach to ergonomics. A best-selling book heaps praise on your funny-looking footwear. A scientific study in a national journal confirms your shoe's structural excellence. Athletes go ballistic about your shoe, creating fan websites and buying the shoes faster than you can supply retailers.
Suddenly, you run smack into one of the perils of innovation: you've created such a heavy demand that someone else is trying to take advantage of it. In other words, you've attracted counterfeiters. They're everywhere.
And you're now locked into a war to protect your brand.
That's the story of Vibram, an Italian company that for 75 years has made soles for high-end hiking boots. Six years ago, Robert Fliri, a mountaineer and industrial designer, approached the company with a novel idea. He proposed a lightweight shoe -- essentially a glove for the foot -- that would mimic the experience of going barefoot while protecting the wearer from dirt and abrasions. Fliri believed that his anti-shoes would enhance muscle development in the feet and improve a wearer's range of motion, balance and posture.
Vibram started making Fliri's five-toed shoes in 2006, dubbing the brand Vibram FiveFingers. In 2007, Time magazine named the shoe one of the year's best health inventions. Two years later, Christopher McDougall's book Born to Run, which touts the benefits of barefoot running, became a best-seller. And this year, a study by Harvard evolutionary biologists published in the journal Nature concluded that barefoot runners land on the balls of their feet, rather than on their heels, ultimately creating less joint stress and reducing injuries.
Customers were hooked. The shoes, which sell for $75 to $125, started showing up on runners at elite events such as the Boston Marathon. Revenue for FiveFingers shoes jumped to $11 million last year, up from $430,000 in 2006. This year, the company's shoes -- which include models for running, training, climbing, hiking and trekking -- are on track to generate sales of $50 million. All of this is separate from Vibram's $125 million annual business making soles.
The company now struggles to meet demand for FiveFingers shoes: It expanded from one factory to five this year and tripled the size of its Boston warehouse and office. About 90% of FiveFingers' shoes are sold to American customers.
The weird look of Vibram FiveFingers naturally sparks conversations -- and wearers are typically delighted to talk about them, spurring viral chatter on Facebook, Twitter and blogs.
"They have such a profound effect on your life," says Justin Owings, an online ad salesman who runs a popular FiveFingers fansite called Birthdayshoes.com. "It's this whole re-introduction to the world through your feet. It brings out the kid in you because you feel all these new textures through your feet."
Podiatrists caution that FiveFingers aren't for everyone. People who don't normally run, who are obese, or who have serious foot problems or diabetes should be especially cautious.
"It started off as a fad movement, but it's gaining a loyal following that I don't think will fade away," says Dr. Ben Pearl, an Arlington, Va., podiatrist who has written about barefoot running on his blog Docforjocks.
Now Vibram must expand quickly enough to keep from losing shelf space to competitors, says Tony Post, the CEO of Vibram USA. Nike (NKE, Fortune 500) already sells a lightweight shoe called Nike Free. Terra Plana has a shoe called Vivo Barefoot. By spring 2011, as many as six more competitors, including Merrell and New Balance, will enter the market with so-called "barefoot" shoes.
But the biggest threat to Vibram is a full-court press by counterfeiters. More than 200 fake Vibram websites selling branded knockoffs have appeared online. The counterfeiters' shoes mimic the colors, styles, and logos of FiveFingers; they come in painstakingly made copies of Vibram boxes, with return shipping labels identical to those that Vibram provides its customers. The sham sites pop up constantly, and getting just one of them shut down can cost up to $2,500 in fees for help from lawyers and the World Intellectual Property Organization, says Georgia Shaw, a Vibram marketing associate.
"It's like Whack-a-Mole," Shaw says. "It's become a really huge problem, taking a lot of our time and energy."
The International Anti-Counterfeiting Coalition, an industry lobbying group, estimates that black market products cost U.S. companies $250 billion a year. Post has no idea how much money Vibram is losing to counterfeiters -- he says he's more worried about the toll that shoddy imitators could take on the company's image.
Unsatisfied customers, unaware that they bought fake shoes from counterfeiters, have started returning the bogus copies to Vibram itself (often using the fake Vibram return labels provided by the counterfeiters). This is a thorny problem for Vibram, which can't start issuing refunds on fake products from bogus manufacturers. Sometimes the company extends a goodwill offer, sending duped buyers coupons for Vibram FiveFingers shoes at half off.
"We're losing money, but hopefully we're making customers for life," Shaw says.
Vibram has hired an investigator in China to uncover counterfeit factories. The company also works with Google to shut out counterfeiters that lure unsuspecting customers with paid search advertisements.
Yet the most powerful weapon in Vibram's arsenal may be the very people who spurred the company's success: FiveFingers' devotees. They're folks like Owings, the Atlanta blogger who owns 10 pairs of FiveFingers shoes.
Owings blogged about the epidemic of counterfeit goods on BirthdayShoes.com two months before Vibram released information about the problem. He has since published a wealth of information on the fakes, listing hundreds of bogus Vibram websites and explaining how to spot counterfeits. For example, he counsels buyers to watch out for a silky shimmer on the fake shoes' fabric and to stay alert for "funky pricing."
Owings says he felt compelled to offer these tips as a public service to his blog's 4,000 daily visitors, who might otherwise get duped into buying something other than his beloved FiveFingers.
"I really feel like I have a sense of ownership about the brand because I talk about it so much," Owings says. "I'm pretty super-passionate. My wife often tells me to shut up about it."