InDinero makes small business finances a snap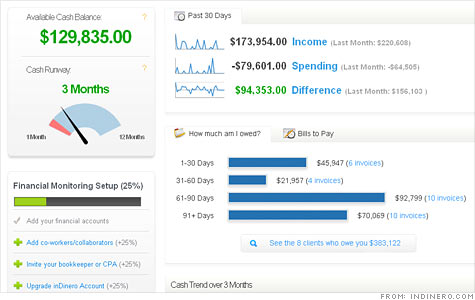 NEW YORK (CNNMoney.com) -- Managing financial data is often a nightmare for small business owners. Most can't afford pricey accountants, and few have the bookkeeping and organizational skills to do the job well themselves.
Enter InDinero, a startup taking aim at that problem.
The site, which founder Jessica Mah calls "the Mint.com for small businesses," offers business owners a dashboard for real-time financial tracking, modeling and forecasting. A snazzy visual interface helps hammer home the meaning of the numbers -- like a "cash runway" gauge that shows how many months of financial fuel a company has in its tank.
A recent grad of venture firm Y Combinator, InDinero launched two months ago to glowing reviews and recently closed a $1 million financing round. The site has already attracted 4,000 business clients using the system to track $400 million -- and Mah says it's already profitable.
"More than three-quarters of our customers never used any accounting before," Mah said. "We expected other programs to be our biggest hurdle -- instead, it's combating inertia."
Mah is painfully familiar with the problem she is trying to solve. She launched her first business when she was 13 years old, and continued in the entrepreneurial vein throughout high school. Whether she was selling website templates on eBay (EBAY, Fortune 500) or running a server hosting site, the financial details were always a headache.
"I was generating a lot of revenue, but my margins weren't good," Mah said. "Even though I knew that, I couldn't figure out a way to solve my problems."
Mah tried to use accounting programs like Intuit's (INTU) QuickBooks, but found them time-consuming and lacking details.
"I wanted to see, for example, how long my company could survive if my revenue dried up overnight," Mah said.
InDinero can show you that. Mah and her business partner, Andy Su, met in college at the University of California's Berkeley campus. They started chatting about their problems with business accounting software, and expanded the discussion to other classmates who'd tried to launch companies.
The stories were the same: Entrepreneurs didn't want to spend a lot of time on complicated software or daunting math. They wanted a quick way to see their finances at a glance. Mah and Su compiled the ideas and began building InDinero in March 2009.
"Twitter and Facebook are fun, but they don't fix business problems," Mah said. "We wanted to create solutions."
Mah met with more than 50 accountants and business owners for tips, but the results weren't encouraging.
"A lot of investors told us it would be really difficult because businesses want so many things," Mah said. "And it's a finance application, which doesn't sound very sexy."
The original plan was to create accounting software, but Mah and Su decided to instead create what they call "a real-time financial dashboard." They focused on the user interface, opting to start with clean graphics and worry about the gritty math details later.
Mah, a computer science graduate, said she built the site around "the idea of what the perfect bank will look like in the year 2100." Setup takes less than 3 minutes, and InDinero pulls in past transactions from businesses' debit, credit and checking accounts.
The site displays graphs detailing how much is business is making, as well as how much it's spending across categories like payroll and travel. Users can also see forecasts for their next 18 months, including the impact of events like hiring a new employee or increasig their Web server costs.
But unlike Mint.com, which relies on advertising to make money, InDinero isn't completely free. Basic accounts come gratis, but businesses with more than 50 transactions a month will need to shell out $30 a month. An enterprise account, for companies with more than 500 monthly transactions, costs $100 a month.
InDinero is currently run by a five-person team -- and they all live together in a Mountain View apartment. Mah hasn't yet paid herself a salary.
She says she'd rather use profits to hire new employees. After all, she's taken to heart the lesson her software illustrates: "Managing money is hugely important for small businesses."