Small biz jobs bill passes key test vote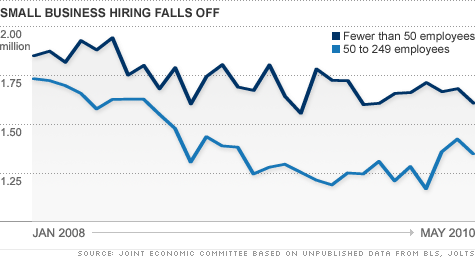 NEW YORK (CNNMoney.com) -- The Senate voted Tuesday to move the $42 billion Small Business Jobs Act forward, bringing the bill one step closer to passage.
The bill passed a key test vote by a 61-to-37 margin. A final vote is expected later this week. If the bill does pass a final Senate vote, it would still have to go back to the House of Representatives for approval before it reaches President Obama's desk.
The measure is expected to create 500,000 jobs, according to a summary of the bill from the Senate.
"When we help small businesses, we help to get Americans back to work," said Senate Finance Committee Chairman Max Baucus, D-Mont., in a statement. "This is exactly the kind of targeted, job-creating legislation that folks in Montana and across the country are urging us to enact."
The House passed its own version of the bill nearly three months ago. But the bill met opposition in the Senate, where Obama has been lobbying hard for support.
What is in the bill: The Small Business Jobs Act authorizes the creation of a $30 billion fund run by the Treasury Department that would deliver ultra-cheap capital to banks with less than $10 billion in assets.
The idea is that community banks do the lion's share of lending to small businesses, and pumping capital into them will get money in the hands of Main Street businesses.
The bill would also provide $12 billion worth of tax relief for small businesses between 2010 and 2020, according to a preliminary estimate from the Joint Committee on Taxation.
In addition, it would increase Small Business Administration loan limits and extend loan sweeteners through the end of the year. It offers a slew of tax cuts to both encourage investment and entrepreneurship. And the legislation provides $1.5 billion in grants to state lending programs that can't turn to empty state coffers for more cash.
What got left out: The Senate was unable to muster enough votes to move forward a second key issue for small businesses: new expanded tax reporting requirements in the health care reform law that will require businesses to file millions of additional forms.
Both a Republican-backed proposal to repeal the expanded tax requirements and a Democratic plan to amend it failed to pass the necessary procedural votes to move it forward.
"In this economy, there is little defense for supporting oppressive regulations on small businesses that will hamper their ability to put people back to work," R. Bruce Josten from the U.S. Chamber of Commerce, an industry lobbying group, said in a prepared statement.
The Chamber sent a letter to the Senate with signatures from 2,434 businesses and trade associations from all 50 states advocating for the repeal of the tax requirement.
A small section of the massive law approved in March mandates that, beginning in 2012, all companies will have to issue a 1099 tax form not only to contracted workers, as they must already do, but also to any individual or corporation from which they buy more than $600 in goods or services in a year.
The IRS Form 1099 is used to document income for individual workers other than wages and salaries: Freelancers get them and businesses send them out. Under the health care law, the 1099 form would be used to track payments for services and tangible goods. Also, it requires that 1099s be issued not just to individuals, but to corporations as well.
The issue will very likely come back to the Senate floor.