Main Street hopeful for better holiday shopping season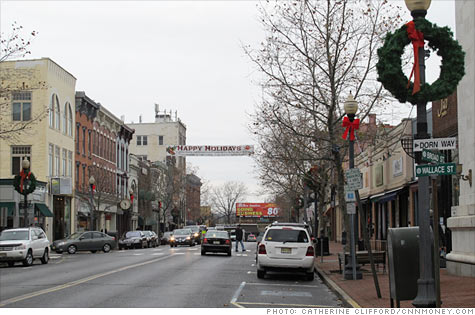 Red Bank, N.J. (CNNMoney.com) -- Main street business owners didn't expect a stampede of bargain hunters on Black Friday, and they didn't get it. But some shopkeepers in Red Bank, N.J. are hoping this holiday shopping season will be better than last year's.
Rosa Davis was perhaps too optimistic. She opened her clothing and accessories boutique, Bella Mystique, two hours early this Friday for the first time in the four years she has owned the store in downtown Red Bank.
But the masses failed to show up. "Most of the people are in the mall, in the shopping centers. They know we -- small boutiques -- don't open that early."
No matter what time a store opens, Black Friday shoppers are looking for bargains. Between 8 a.m. and 1 p.m., Davis gave customers 50% off, and after 1 p.m., the discount dropped to 40%. It's been a brutal year: 2010 was worse for Davis than 2009, but "since it hasn't been good this year," she said, "I hope people are saving it for this holiday."
Alan Fisher thinks this year will be better. "I feel a very, very positive atmosphere. I feel that quality products will win out over quote-unquote commercialized products." A.H. Fisher Diamonds has been on Broad Street in downtown Red Bank for 27 years and while his customers want to be sure they are getting the best prices for jewelry, they also expect quality service.
"We are going to have a private sale later in December and have it continue to the general public," said Fisher. But the idea is to first and foremost cater to his "loyal client base."
At Funk and Standard variety store, a clothing and gift store in downtown Red Bank, owner Patti Siciliano is innovating and working to make her store offer more than just objects: She is opening a vegan juice bar in her shop and wants to start offering classes, like knitting. Siciliano's Red Bank location has been open for 13 years and she's had a second shop in Westfield, N.J., for 7 years.
The holiday shopping season "is not going to be what it was in 2005, but we are going to start moving in that direction," said Siciliano. Since the recession put a clamp on consumers' wallets, Funk and Standard's clothing prices have fallen to between $16 and $34 from an average of $24 to $48 per item.
One item for which shoppers are willing to shell out cash is the ultra comfy Ugg boot. If the Shoe Fits in Red Bank opened at 9:30 am on Black Friday, "and I have been extremely busy since we opened up," reported owner Don Strohmenger. He is looking for a stronger holiday season than last year: So far, it's all about the Uggs. Strohmenger said they are his most popular item as he rushed back and forth from the stockroom to get more.
Business owners may be cautiously optimistic, but they can't ignore the toll the recession has taken. Ballew Jewelers has been on the same block in Red Bank since 1886, but its Broad Street location is closing down and owner John Ballew is selling off his inventory at 30 to 70% off.
"The business model is changing, and I am not in the mood to reinvent everything," he said. Ballew still owns two other locations in New Jersey. "It is more the philosophy of the customer these days: They think if they paid full price, they think they got ripped off." The result, he said, is artificially high pricing to allow for artificial discounts.
Ballew's Red Bank location will be open through the end of the year selling off inventory, unless he sells everything sooner. Ballew expects this holiday season to be better than last, but, he says, "I don't expect anything big."
Long-time customers and personal attention are the main draws for small businesses to pull shopping dollars away from megastore price slashing.
"We expect tomorrow to be the mall's Black Friday," said Fisher of A.H. Fisher Diamond. "When people are ready to do their serious shopping and want to know they are going to get the best of the best of customer service, small business offers what big stores can not."