Hope for small businesses on debit-card fees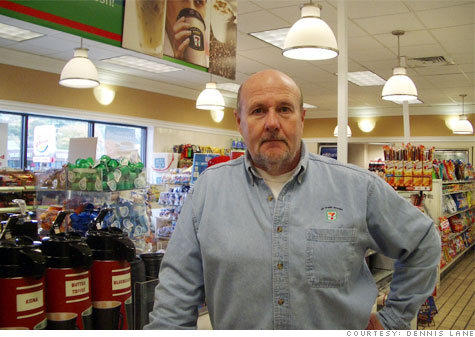 NEW YORK (CNNMoney.com) -- It's not every day that Main Street gets a slam dunk on Wall Street. But the Federal Reserve's proposed cap on "swipe fees" could significantly reduce small businesses' costs while cutting into big credit card company's profits.
When a consumer pays with a debit or credit card, the retailer has to pay a fee to the credit card company, a so-called "interchange fee." For small retailers, these interchange fees, or "swipe fees," can add up fast.
Dennis Lane spends between $600 and $700 a month on electronic interchange fees at his 7-Eleven convenience store in Quincy, Mass. About 80% of the fees stem from debit card transactions -- or about $560 per month. The Fed's proposed fee cap could slash those expenses by as much as 80% to 90%, according to a J.P. Morgan research note.
That would be "really significant" help, Lane said. Multiplied across the nation's small businesses, those savings could make a big difference for owners and help give the economy a boost, say small business advocates.
"The Fed proposal stands to put more money back into the hands of small-businesses owners - the folks who are out there trying to stay afloat and hire new employees," said Kyle W. Kempf, Senior Director of Government Affairs at the National Small Business Association, in an e-mail.
Swipe fees have become a growing sore point, as the rise of debit card use has led the fees to take an ever-bigger bite of small businesses' budgets.
"Every year the number of people who don't use cash increases," said Lane, who's owned his 7-Eleven for 36 years. "There are an awful lot of people who come through my door who have no money in their pocket."
Rather than send buyers to an ATM, Lane accepts debit cards for any item at his 7-Eleven, even just a newspaper or coffee. (Unlike many convenience stores, his doesn't sell gas.) He is often "upside down" on small purchases, but even if he loses money sometimes, "you never turn a customer away," he said. "Because a customer remembers that you turned them away."
Lane isn't alone. For small retail grocers that operate between one and nine stores, swipe fees are "No. 1 or No. 2 in the list of budget items they have," said Leslie Sarasin, president and CEO of Food Marketing Institute, on a conference call organized by the Merchants Payments Coalition Thursday.
Nevertheless, Lane said he understands that banks charge swipe fees for a reason. "We don't have a problem paying our fair share of interchange fees," he said. "We have a problem with the interchange fees not being what we consider fair and reasonable."
The average debit card processing fee is about 1.3 percent of the transaction -- but many small businesses pay significantly more than that, "certainly far more than the actual costs of processing a debit transaction," said Kempf at the SBA.
The Fed is currently weighing 2 different versions of a cap. One would levy a flat fee of 7 cents per transaction, no matter the size of purchase. The other would scale the fee depending on the purchase price, but set a maximum of 12 cents per transaction. The Dodd-Frank Wall Street Reform Act charged the Fed with regulating interchange fees.
Since the fees are a significant driver of profits, the proposals hit credit card giants hard. After the Fed announced the details Thursday, shares of MasterCard (MA, Fortune 500) and Visa (V, Fortune 500) took double-digit plunges.
But for some small business advocates, the proposals are just a start.
"All you need to do is take a look at the check system which has operated well in this country for over a century," said Doug Kantor, counsel to the Merchants Payments Coalition, on a conference call Thursday. "For the past 80 years or so, the rule set down by the Fed is that there shall be no interchange fees on checks." He thinks there should be no interchange fees at all.