Small businesses hiring surges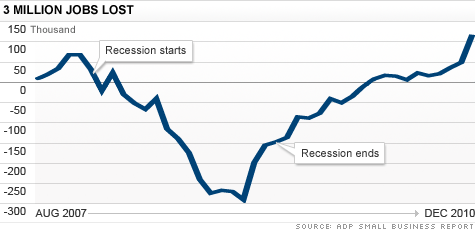 NEW YORK (CNNMoney.com) -- Small businesses saw a sharp jump in hiring in December, according to an ADP report released Wednesday.
The private sector added 297,000 jobs overall last month, with almost all of the gains coming from companies with less than 500 workers. Those firms added a net 261,000 new positions during the month, ADP estimates.
The smallest companies -- those with fewer than 50 workers -- added 117,000 jobs. That's their biggest monthly hiring surge since February 2006, according to ADP's data. Over the past three years, as the recession ravaged the economy, those tiny firms cut more than 3 million workers from their payrolls.
Overall, the gain was better than expected. Economists surveyed by Briefing.com predicted a rise of 100,000 jobs.
It also builds on momentum from last month. Small companies with fewer than 50 workers added 49,000 jobs last month, ADP said Wednesday -- a slight revision from its earlier estimate that 54,000 new jobs were created in November.
The spike in small business hires could mean good news for Main Street. Small businesses are often first to hire -- or fire -- depending on the health of the economy.
But there's still a long way to go. Unemployment remains at a staggering 9.8%, and a CNN Money survey of leading economists predicts unemployment won't drop below 8% until 2013.
John Lonski, chief economist at Moody's, says it's worth noting that the ADP report's high numbers -- which are preliminary and subject to revision -- could be inflated. The stock market stayed fairly flat Wednesday morning after the ADP report's release.
"Equities have essentially not responded to the the bullish news on ADP, mostly because other labor market indicators question whether or not the U.S. government's estimate of the change in private sector jobs will even remotely approach ADP's estimate," he said.
The government's jobs estimate for December is due out Friday.
"I think the labor market is improving, but at this point in time the financial markets are skeptical of whether or not ADP has accurately detected a huge jump by private sector payrolls," Lonski said.