Pizzaman turned Congressman hopes to fix Capitol Hill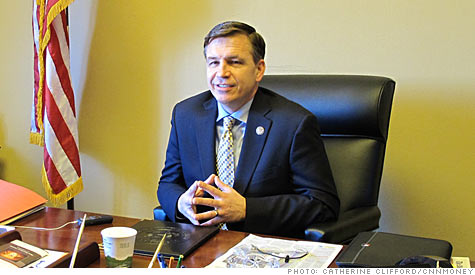 WASHINGTON (CNNMoney) -- Bobby Schilling, the pizza shop owner from Illinois who was sworn into Congress Wednesday, thinks his business skills can fix Washington.
As a small business owner, "you are almost forced to troubleshoot: Find the problem, fix it, then find another problem, and I think that is what Washington D.C., needs," said Schilling from his new digs in Cannon, a historic House office building.
A conservative Republican, Schilling was inspired to run for Congress because he is worried about the $14 trillion deficit mounting ever higher for the next generation to deal with. He is highly invested in the next generation: He has 10 kids.
"It is one thing to sit back on the couch and... yell and scream at the TV," said Schilling. He said he needed to "jump into the arena" and help create change.
Schilling has certainly stepped into the arena, and even something of a spotlight. His path from behind the pizza ovens at St. Giuseppe's Heavenly Pizza in Moline, Ill., to a member of the 112th Congressional freshman class has attracted camera crews that have followed him in his first couple of days in office.
"It was almost overwhelming," said Schilling of the media attention he got Wednesday when he was officially sworn in. "They like the pizza guy."
Schilling is excited to be on the Hill: "There are still times when I am walking up and I look at the Capitol and I think, oh my goodness." But it's also stressful. "Right now, I am kind of scared to go onto the floor and speak," he confessed. "Once I get used to it, though, they probably won't be able to keep me off there."
In addition to his business skills, Schilling said he hopes his "common sense" will earn his colleagues' and constituents' respect. That and his work ethic: "I want to be the guy that came in and the people say, 'Wow, this guy really came in and worked his tail off like he said he would.' "
He's already won the hearts of some small business owners in his region.
"Bobby seems like a genuine person to me," said Brian Burcham, vice president of All Service Contracting, a family-run, 13-employee company in Schilling's district that does maintenance on water treatment plants. Burcham was at an open house for Schilling on his first day in office, and had traveled all the way from Illinois to show his support. "Anyone who is a small business owner, has 10 kids, and no political experience -- that is my kind of guy," Burcham said.
Schilling may not have much experience in politics, but he's got opinions on some of the hot-button issues facing Congress. Here's where he stands:
Lower taxes, smaller government. Schilling has owned his pizza shop for 14 years, but earlier in his career, Schilling worked in various leadership roles in workers' unions. Those two jobs, in particular, have informed his politics.
"You can't be pro-labor and anti-business," said Schilling, because businesses create jobs. Schilling supports limited government and lower taxes.
"Our workers, our American people who are already struggling, are going to continue to struggle until we can get somebody who can bring some business sense to Washington D.C.," he said, "and I think that is the one thing I bring."
Schilling wants to see the Bush-era tax cuts extended for at least ten years, and ideally permanently. The current two-year extension makes it hard for businesses to make long-term plans, he said.
The debt ceiling. A battle has been brewing recently over the debt ceiling, the cap set by Congress on how much the federal government can legally borrow. As the U.S. fast approaches the debt limit, some Tea Party and other conservative lawmakers say they won't vote for an increase. Schilling doesn't go quite that far, but he's against raising the ceiling without a plan.
"I will not vote for a debt ceiling increase unless there is a very clear path on how we are going to pay this down," said Schilling. "If you have a kid and you send 'em off to college and they have a $5,000 credit card and then you get this bill in the mail and it shows they have maxed it out, you don't call the credit card company up and say, 'Hey, we need to increase the limit even though we don't know how we are going to pay for it.' "
Health care reform. Schilling said he will "definitely" vote for a repeal of health care reform, as incoming House Republicans have promised to do.
He considers it unconstitutional to require individuals to purchase health care.
That doesn't mean Schilling doesn't want reform. "What we had this time around was a health care takeover, a large tax bill with a few pieces of health care reform in it: It is a job-crushing bill."