Brandon Fisher, surprise State of the Union star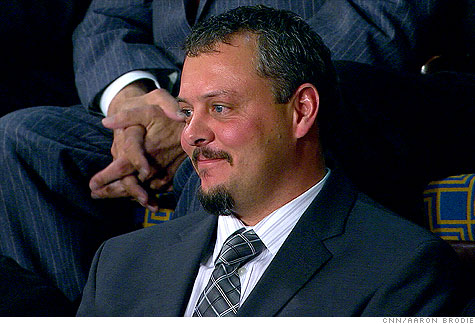 NEW YORK (CNNMoney) -- Life as an entrepreneur can be exciting, but Brandon Fisher is really taking it to new levels: Not only did he help save the 33 miners trapped in a mine in Chile last year, he was prominently featured in Tuesday night's State of the Union address, which he was invited to attend in person.
"Just the day before yesterday, Monday, we were contacted by the White House and asked to attend," said Fisher, the CEO and founder of Berlin, Pa.-based drilling company Center Rock.
The seats weren't half bad, either. They were invited to sit with the other special guests, just behind First Lady Michelle Obama.
It was pretty short notice, but when the President invites you to his State of the Union address, you shuffle your schedule around.
Brandon, 38, and his wife, Julie, arrived in Washington, D.C., around 5 p.m. Tuesday, just about 4 hours before the President's speech began. Toward the end of his address, President Obama told Brandon Fisher's story as an illustration of the American dream.
"One day last summer, he saw the news that halfway across the world, 33 men were trapped in a Chilean mine, and no one knew how to save them. But Brandon thought his company could help. And so he designed a rescue that would come to be known as Plan B," said Obama. "Thirty-seven days later, Plan B succeeded, and the miners were rescued."
Brandon and his wife, who is sales director at the company, didn't know they would be such a prominent feature of the President's national address.
"We certainly were not expecting anything like that," said Brandon. Last Friday, a White House representative called asking permission to cite a quote from Center Rock in the speech, said Julie, but they didn't know what to anticipate. It was "unbelievably humbling, and something that we are very, very, very proud of," said Brandon. "And I think we are still in shock to be honest with you."
Center Rock manufactures and distributes air drilling tools. When Brandon, who started the firm when he was just 26, heard about the accident, the company "immediately started to investigate" the type of rock and drilling challenges involved. They developed a plan, and worked with Pennsylvania's then-governor Ed Rendell and a state agency that promotes manufacturing to get in touch with the right people in Chile.
Center Rock designed and manufactured the tools that eventually allowed the miners to be rescued. The company shipped a total of 50,000 pounds of equipment down to South America for the rescue. During the drilling, Brandon was on site to supervise and give any necessary technological advice.
"I myself spent 37 days down there. To run a business from a remote country in the middle of the desert is a challenge," said Brandon. "It is amazing how everything did work out and it could have easily went the other direction and failed and we wouldn't be in this situation."
Hearing the President tell your story to the nation was "surprising" and "emotional," according to Brandon, but as a small business owner, Brandon had a more muted reaction to the rest of the State of the Union speech.
"Once again, he seems to say what he wants people to hear but everyone is wanting to see some action," said Brandon.
Obama raised a few issues that are key for small businesses in his speech Tuesday night: encouraging innovation, simplifying the tax system, and repealing the 1099 tax-reporting burden imposed as a part of the health care reform law. Brandon wants to see the administration lower taxes so that he can reinvest profits into his company, allowing it to grow and create additional jobs.
For now, though, Brandon is focused on getting back to the office after his exciting Tuesday. "It was quite a feat just juggling everything. We are rather busy at this point in time, as well," he said. "Back to work today and try to pick up where we left off."