BP: Gulf oil spill payments are too generous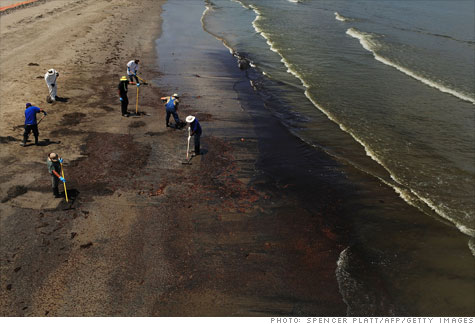 NEW YORK (CNNMoney) -- How much should victims of last year's massive Gulf oil spill get?
Only a week after the U.S. chided the agency in charge of doling out BP's $20 billion oil spill recovery fund for being stingy, BP, who was responsible for last year's disaster in the Gulf of Mexico, said payouts to victims are too generous.
BP makes its case in a 24-page letter emailed to the Gulf Coast Claims Facility, on Thursday. The letter is posted on the agency's website as part of payment czar Kenneth Feinberg's call for public comments on the final payment methodology.
Although the comments are posted anonymously, a BP spokeswoman confirmed that the letter on the site was submitted by the company.
Earlier this month, Feinberg and the GCCF issued a proposed methodology for determining final lump sum payments to victims of the spill which assumes that the Gulf Coast region will fully recover from the oil spill by 2012.
But in its letter, BP said that assumption is incorrect and overstates the region's losses. Going forward, the company writes, most claimants will not be losing money as a result of the spill.
"Nearly all fishing grounds are open, and December 2010 shrimping data show a successful industry with high landings and high prices," the report says. "Hotel data show that, on both a beachfront and country-wide basis, the Gulf hospitality industry is strong."
Feinberg said that he will consider all comments he has received. "We welcome input from any and all interested parties. We are taking all comments under advisement."
While BP thinks that Feinberg is paying too much, the Department of Justice is encouraging him to loosen the purse strings.
"The role of the GCCF is to satisfy the obligations of the responsible parties to compensate those harmed as a result of the Deepwater Horizon oil spill under the Oil Pollution Act - in whatever amount ultimately is required," said Associate Attorney General Thomas Perrelli in a letter to Feinberg earlier this month. "It is not to preserve the $20 billion fund that BP has established or to return money to BP."
Thus far, the GCCF has paid out roughly $3.5 billion of the $20 billion that BP has allocated to pay for damages.