Small businesses ramp up jobs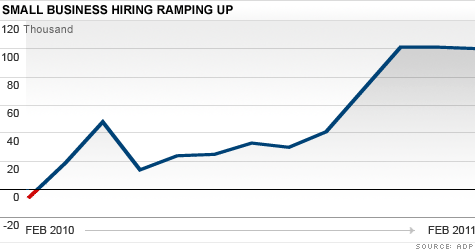 NEW YORK (CNNMoney) -- Small businesses have ramped up their hiring in recent months, fueled by a recovering economy and more optimistic business owners.
That's a far cry from little more than a year ago, when the sector was losing thousands upon thousands of jobs each month.
The sector added 100,000 jobs in February, keeping pace with 101,000 in both December and January, according to data compiled by ADP, a payroll processor.
Small businesses defined as firms with fewer than 50 employees, started hiring in January 2010 and have been adding jobs consecutively for the last 12 months, according to ADP, which released its most recent report on Wednesday.
Small firms are considered the engines of job growth, so the hiring is crucial for the nation's beleaguered labor market, which is stymied with an unemployment rate at 9%.
Of the 217,000 jobs added last month, 46% of them were added by small businesses.
It's not surprising that small businesses are adding jobs, said Bill Dunkelberg, chief economist at the National Federation of Independent Business. Small businesses, which are mostly service-oriented and labor-intensive, need to hire more people to grow.
The overwhelming majority of the job growth in the small business sector -- 97,000 jobs -- were service jobs in the most recent month. Only 3,000 were in the goods-producing sector.
Small business still has a long way to go when it comes to job creation. The sector shed 2.7 million jobs between April 2008 and February 2010. It has added only 607,000 jobs between March of 2010 and last month, based on ADP data.
Green and Hiring: Steve Levine, the CEO of AtmosAir Solutions, which installs air purification systems, has hired five employees in the last 12 months, expanding his staff to 15 from 10.
Levine, who started the company in 2004, has seen his business grow as more people and companies seek green solutions for their homes and work environments. AtmosAir Solutions sells machines that remove mold, dust and odors and reduce the amount of germs that slip past standard air filtration systems.
By next year, he expects his Fairfield, Conn.-based company to have 25 employees.
"As we educate more and more companies and engineers and architects, we are going to have to hire people to manage that growth," said Levine, whose customers include the Dallas Cowboys, Hyatt and Hilton Hotels and Carnegie Hall.
Hiring Freeze: Not all small firms, however, are ramping up.
Terry Frank and her husband, Lee, who own Nature's Marketplace, a gourmet market and deli in Oak Ridge, Tenn., are still not convinced that the economy's recovery is solid and say that new tax regulations are trimming their profits.
The Franks, who started their business in 1993, employed as many as five people in 2002. Now they have two.
To compensate, the couple picks up the extra work. "If I get to leave early, it is a 10-hour day, and then there are the times we work 16 hours a day," Terry told CNNMoney.
"There is just so much turmoil out there," she said. "I don't think there is going to be any huge amount of growth until there is a little bit more certainty of what lies ahead."